Most ECB Officials See Upside Risk to Medium-Term Inflation
(Bloomberg) -- European Central Bank officials reckon inflation could turn out higher than expected in the coming years, underscoring how much uncertainty the economy still faces as it rebounds from the pandemic.
The ECB's inflation projection of 1.4% for 2023 -- the furthest out that it currently forecasts -- "was widely seen as subject to upward risks," according to the account of June 9-10 policy meeting published Friday.
While that's below the new price-stability goal of 2%, policy makers debated the impact supply chain shortages and higher household savings. One further reason brought up was that governments may be forced to take measures to fight climate change that could raise prices.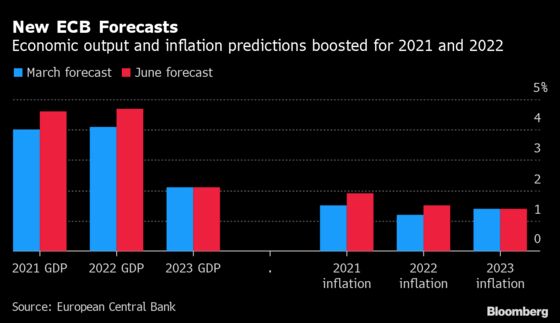 Policy makers agreed to look through the temporary spike in inflation this year. Still, central bankers including Dutch Governor Klaas Knot and Bundesbank President Jens Weidmann have publicly said there are upside risks attached to the current outlook.
Officials in the meeting differed on whether the stronger economy warranted a slowdown in pace of bond-buying under the pandemic emergency purchase program. Some said buying should be scaled back "as a matter of symmetry and consistency in decision-making."
Ultimately, the ECB deemed the outlook too fragile, and decided to continue purchases at an accelerated pace through September. President Christine Lagarde had argued three weeks prior to the meeting that any discussion about unwinding support would be "far too early" and "actually unnecessary."
What Bloomberg Economics Says...

"The decision to maintain monthly buying through the Pandemic Emergency Purchase Programme was based on the broad rise in sovereign yields. That suggests the ECB's reaction function may be more clear-cut than we thought."

-David Powell. To read his report, click here.
The European Commission also warned on Wednesday that upside risks to inflation could emerge if supply-side bottlenecks prove more persistent and companies decide to pass on higher production costs to customers. The European Union's executive arm sees consumer prices rising an average of 1.9% this year and 1.4% in 2022.
ECB officials announced the results of their strategy review on Thursday, adopting the 2% inflation target instead of the prior "below, but close to, 2%," and acknowledging that their new approach could lead to price growth temporarily exceeding the target.
The next policy meeting is on July 22, when the June arguments could come to the fore again. Economic projections will be updated at the subsequent meeting in September.