ECB Officials Warn of Brexit Costs for Slowing Euro-Area Economy
(Bloomberg) -- European Central Bank officials stepped up the urgency of their warnings that Britain's messy divorce from the Europe Union could further damage the currency area's slowing economy.
Speaking a day after the U.K. parliament rejected the government's Brexit deal in a landslide, Austria's Ewald Nowotny said uncertainty over the way forward could hurt sentiment in the euro zone. In a newspaper interview, Executive Board member Yves Mersch called the U.K.'s departure a potential source of "unnecessary shocks."
"Brexit -- from the banking point of view -- is not so much a technical problem, because here we are pretty well prepared for whatever outcome there will be," Nowotny told a conference in Vienna. "But it could be a psychological problem. And as you know, 50 percent of economic thinking is psychology."
What Our Economists Say...
"The scale of defeat for Prime Minister Theresa May's Brexit deal yesterday raises the likelihood of a delay to Britain's departure from the EU. That would mean yet more uncertainty weighing on an already bruised economy."

--Dan Hanson, Bloomberg Economics. Read more here.
Until now, ECB officials have said they're confident that Brexit will have minimal consequences beyond the financial sector and pose little immediate risk for the economy. Nowotny's comments suggest concern may be deepening as the March deadline approaches and euro-area growth is already slowing.
ECB President Mario Draghi told European lawmakers on Tuesday that the bloc isn't headed for a recession, even though the slowdown could last longer than expected. That underscores the need for continued stimulus. Nowotny and Mersch backed that view.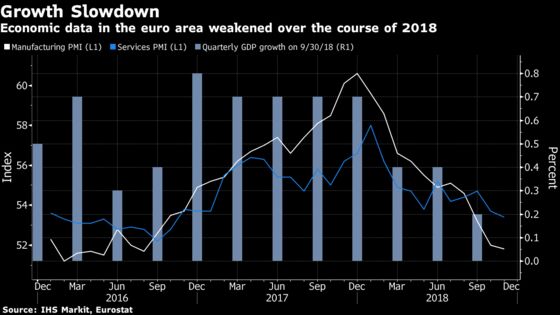 A spate of disappointing data from across the 19-nation bloc in recent weeks has led investors to question whether the central bank will be able to start raising interest rates this year. Officials hold their next policy meeting on Jan. 24, the first since ending asset purchases in December.
ECB Governing Council member Francois Villeroy de Galhau told the French parliament on Wednesday that any increases in rates would be "extremely gradual and dependent on the economic situation."
"The current economic situation encourages pragmatism," Villeroy said. "It's our duty, vis-a-vis our mandate for price stability, to take into account the environment we're in."
Nowotny urged British politicians to quickly offer a way forward.
"Nothing is as damaging as this long and pronounced period of uncertainty," he said. "It's this kind of dichotomy that if you look at the real numbers one could feel a very positive sense, if you look at the psychological side, you could see quite a number of dangers that might come up."