ECB Officials Warn of Inflation Shift as Upside Risks Mount
(Bloomberg) -- Officials from across the euro area called for vigilance on inflation, warning there are upside risks to the European Central Bank's medium-term outlook that already foresees price growth approaching its 2% target.
Bank of France Governor Francois Villeroy de Galhau said Friday that the difference between the new projections for 1.8% inflation in 2023 and 2024 and the ECB's goal is within the "margin of uncertainty."
In a Bundesbank report showing German prices will rise by more than 2% through 2024, President Jens Weidmann urged caution due to "risks to the upside" throughout the currency bloc. 
"Monetary-policy makers should not ignore these risks-- we need to be vigilant," Weidmann said. Villeroy argued that "we shouldn't give exaggerated importance to a 0.2 point gap."
The closer alignment on a hawkish stance marks a shift at the core of the central bank from before Thursday's meeting, when officials stressed inflation would prove transitory. It also underscores the potential risk that the central bank will need to tighten its stance sooner than expected, if the upside risks materialize.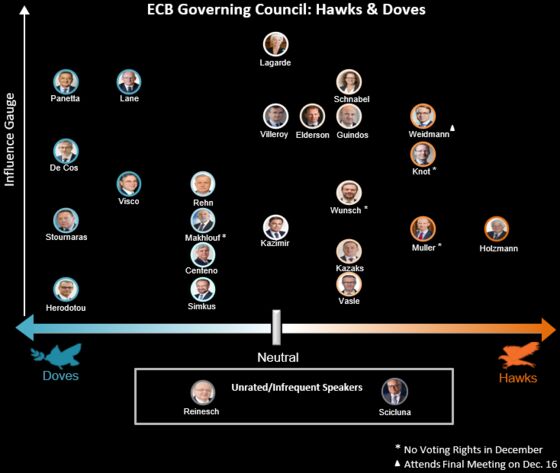 Even more traditionally dovish members, such as Portugal's Mario Centeno, warned on Friday that "the risk that inflation is higher than the forecasts exists." Villeroy said the updated outlook showed "a new inflation regime" that "looks more like what we had before the financial crisis."
Those views were echoed by Estonian Governing Council member Madis Muller, who said the ECB is prepared for the possibility that it may need to tighten faster as it's no longer worried about "dangerously low price rises in the long run." Lithuania's Gediminas Simkus also said inflation risks were to the upside.
The only remarks that strayed from the hawkish voices came from Finnish central bank chief Olli Rehn.
"There is considerable uncertainty about the path of inflation," he said. "Factors that have been driving inflation will not lead to a longer term upsurge in inflation unless they are accompanied with second-round effects."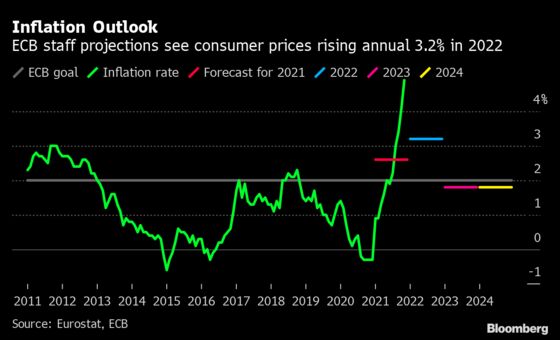 ECB officials concluded during their policy update on Thursday that the improved economic outlook was strong enough to permit an exit from crisis stimulus in March. They opted to briefly boost normal bond-buying to avoid what President Christine Lagarde called a potentially "brutal transition." 
Some governors, however, disagreed with the decision to lengthen the reinvestment time frame for the emergency asset-purchase program, arguing that it didn't conform to the aim of exiting crisis measures, according to people familiar with the matter. Several policy makers cast doubt on the likelihood of inflation slowing to exactly 1.8% as the ECB forecasts, they said.