ECB Officials Cling to Economic Narrative Amid Weak Data
(Bloomberg) -- European Central Bank officials said a recent slew of disappointing economic indicators doesn't fundamentally change their view on prospects for growth and inflation.
Stagnation in Germany and Italy in the third quarter and slower-than-expected expansion in the euro area aren't reasons to start speculating about actions the central bank might take if the slowdown deepens, Governing Council member Ardo Hansson said in Tallinn on Wednesday. His Austrian colleague Ewald Nowotny shared that view, stating he expects the ECB to go ahead with its plan to end net asset purchases this year.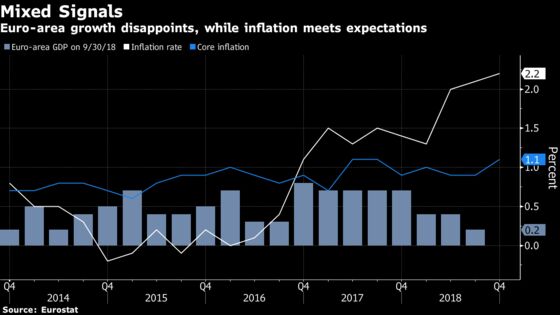 "We assume that there will be a slight downward revision, but not in a dimension that would change monetary-policy perspectives," Nowotny said, referring to updated projections the ECB will publish after its December meeting. Hansson argued there has been "no significant, material change that would increase doubts about the present forecasts."
Both men are considered relatively hawkish members of the Governing Council.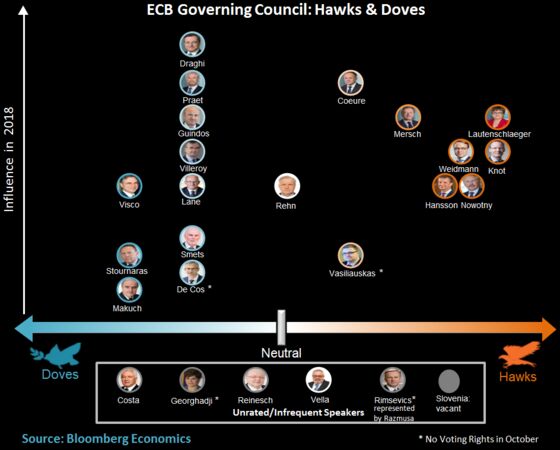 Data published this week showed growth and sentiment weakening at a crucial time for the ECB as it prepares to scale back stimulus. President Mario Draghi said last week that the euro area has lost some momentum but isn't headed for a downturn. The ECB's view is that inflation pressures should continue to firm on the back of a strong labor market, and both the headline and core rates accelerated in October.
Read more
Bloomberg Economics: Inflation Rise Is Little Reason for Cheer
Rehn Calls for Thorough ECB Look at Bernanke's Price Target Idea
Nowotny, Hansson and Finnish central bank Governor Olli Rehn reiterated that temporary factors weighed on momentum in the summer months. Those include changes in regulatory standards for the automobile industry, which held back manufacturing in countries including Germany.
"It's quite likely there would be a mild rebound in the fourth quarter," Rehn said in Helsinki. "I wouldn't read too much into it at this point in time."
Meanwhile in Rome, Bank of Italy Governor Ignazio Visco warned that trade tensions could be amplified as companies revise down their spending plans. In a speech criticizing the Italian government's budget, he also said that ECB policy normalization is a "very delicate" process.
The market expects that normalization to be "very gradual," Bank of Spain Governor Pablo Hernandez de Cos said in Madrid, adding that the deceleration in euro-area economic growth is "somewhat more pronounced that what was projected some months ago."