ECB Officials Agree to Counter Investor Rate-Cut Skepticism
(Bloomberg) -- European Central Bank policy makers are uncomfortable that investors appear to be largely ruling out more interest-rate cuts, and have agreed to stress that such stimulus remains a viable option, according to officials.
The Governing Council last week discussed how market pricing foresees little chance of a reduction further below zero, and concurred on the need to highlight that possibility, the officials said, asking not to be identified because the deliberations were private.
The euro extended its decline on the news before retracing those losses to trade 0.5% down on the day. Money markets brought forward bets on a five-basis-point rate cut to July, from September earlier.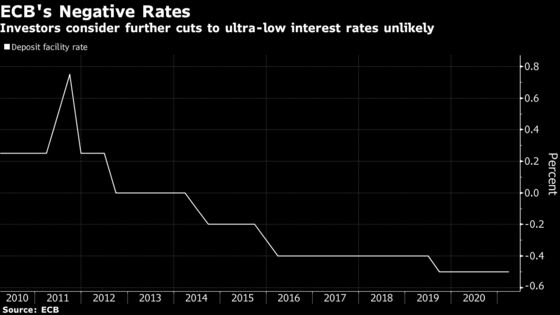 The discussion resulted in President Christine Lagarde placing a special focus on the wide range of options available to the ECB, when she declared on Thursday, with an emphatic pause, that policy makers stand ready to adjust "all" tools if needed.
Officials are not currently considering another cut in borrowing costs in the short term, the people said. One of them said investors shouldn't be ruling out such an action at a time when economic uncertainty remains high and the euro is relatively strong.
An ECB spokesman declined to comment on deliberations by the Governing Council.
With the deposit rate already at a record low of -0.5% before the pandemic, the ECB has focused emergency efforts on bond purchases and long-term loans for lenders. Despite the temptation of cutting it to add easing and try to stem gains in the euro, the Frankfurt-based institution has shirked from doing so to avoid hurting bank profitability.
Subzero policy has proven unpopular among savers in Germany and the Netherlands. That makes comments on Wednesday by Governing Council member Klaas Knot, the Dutch central bank president, all the more intriguing.
In an interview with Bloomberg Television, he specified the deposit rate as one tool that could be adjusted if needed.
"I always quip that we've explored the effective lower bound, but we haven't found it yet," he said. "There is still room to cut rates."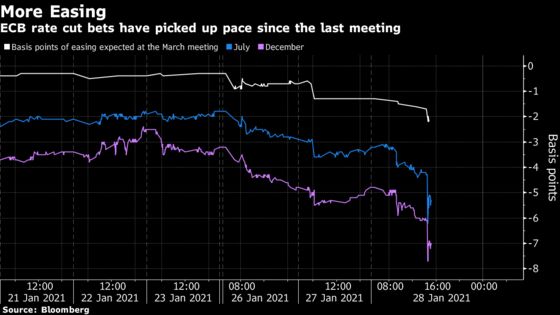 The ECB's own research has pointed to a so-called reversal rate, the level at which damaging side effects would likely outweigh economic advantages, to be around -1%.
Knot added that any potential move would need to be considered "in conjunction with our overall policy stance, which is determined by a multiplicity of tools -- asset purchases, TLTROs, forward guidance -- they all come into play here."
To Nick Kounis, head of macroeconomic research at ABN Amro NV in Amsterdam, the most likely scenario is still for the ECB to keep its deposit rate on hold.
"It would take significant further euro strength for the cost-benefit analysis to shift towards a rate cut," he said in a note on Wednesday.
He judges that "the ECB wants to keep the door open, and indeed some market pricing of rate cut, as a way to restrain further euro strength going forward," but warns it "may be playing a dangerous game if it is not serious about delivering."
The ECB is one of only four central banks to still employ a negative monetary policy rates, along with counterparts in Switzerland, Denmark and Japan. Sweden's Riksbank ended its own subzero experiment in 2019.
BOE officials have aired the prospect of going negative, without collectively agreeing on whether they could be comfortable adopting that policy.