ECB Is Said to See No Need for New Long-Term Loans in December
(Bloomberg) -- The European Central Bank is unlikely to announce new long-term bank loans when it sets monetary policy next month, and is still on track to confirm the end of net asset purchases, according to euro-area officials familiar with the matter.
Much of the discussion in the Governing Council is expected to be on how to reinvest existing debt when it matures, the people said. They asked not to be identified because such internal talks are confidential. An ECB spokesman declined to comment.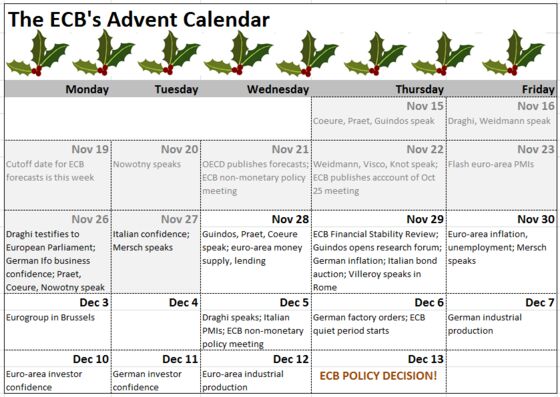 A spate of weak economic data and pressure on Italy's financial markets have sparked speculation over the health of the euro area, and whether the ECB should respond. Some economists see new long-term loans as a way to smooth the bumps.
Yet in the six weeks since their last policy meeting, ECB officials including President Mario Draghi have pushed back against suggestions that the six-year expansion is in trouble. They've acknowledged external risks such as trade protectionism, but insist that the domestic economy is resilient and inflation is on a path toward their goal.
The ECB will publish updated economic projections after its Dec. 13 meeting.
What Our Economists Say...
"There's a decent body of evidence to show wage pressure is building, even though this has yet to be fully reflected in prices. It's probably only a matter of time before that happens."

--David Powell, Bloomberg Economics. See our EURO-AREA PREVIEW
Investors and economists widely expect the 2.6 trillion-euro ($2.9 trillion) quantitative easing program to be capped at year-end as planned, but the idea of fresh loans has gained traction.
Barclays analysts Giuseppe Maraffino and Antonio Garcia Pascual said they could be announced as soon as the Dec. 13 meeting, and HSBC economist Chris Hare said they might come in the first half of next year. JPMorgan economist Greg Fuzesi said replacements would help banks overcome a liquidity squeeze.
Lenders hold around 720 billion euros of so-called TLTROs, with Italian banks the biggest takers. The loans provide them with stable funding and contribute to cheaper borrowing costs for companies and households. That may make the instrument an attractive option for policy makers as other crisis-era stimulus measures are gradually withdrawn.
Still, ECB chief economist Peter Praet has argued that it's premature to decide now whether new long-term financing is needed. Existing loans won't start to expire until June 2020, and banks won't be in a pinch to replace them to meet capital standards until summer next year.
Policy makers have repeatedly said that reinvestment for an "extended period" will keep monetary policy loose. A key point of debate is whether to clarify how long that period will be.
Executive Board member Sabine Lautenschlaeger has said reinvestments should be "flexible" and shouldn't last too long. Praet has said it's reasonable to expect more clarity but there's no need to rush.
The process is complicated by a regular review of the ECB's capital key, a measure of economic strength that determines how QE purchases are spread across the bloc. Italy's lackluster growth means its allocation will probably be cut, fanning concerns that bond yields -- already at multiyear highs because of the government's spending plans -- will spark a wider financial crisis.
Policy makers have signaled they'll aim to minimize any market impact. One option under discussion is to gradually phase in the changes to bond holdings, two of the euro-area officials said.