ECB Is Said to Debate Extending Term for Deputy Bank Watchdog
(Bloomberg) -- Some European Central Bank policy makers are discussing whether Sabine Lautenschlaeger's term at the bank-supervision arm could be extended to avoid disruption during a major overhaul of top staff early next year, according to euro-area officials familiar with the matter.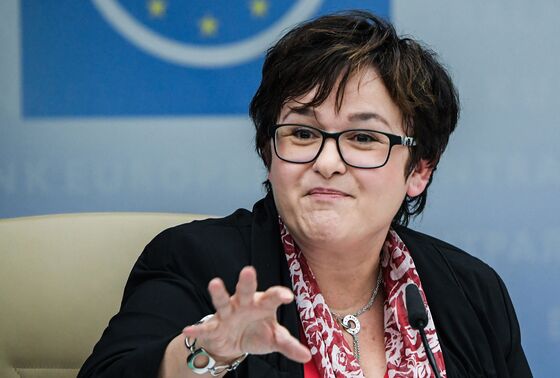 Lautenschlaeger's five-year tenure as vice chair of the Single Supervisory Mechanism -- supposedly non-renewable -- is due to end in February, a month after Chair Daniele Nouy stands down. Another top official, Ignazio Angeloni, is scheduled to leave in March.
The reshuffle comes just as Brexit threatens to put extra pressure on the banking system, and as Italy flirts with a financial crisis over its budget plans.
To minimize the upheaval, policy makers are questioning whether they can ask Lautenschlaeger to stay on, the people said, asking not to be identified as the informal discussions are confidential. The extension could be as much as a year. An ECB spokesman declined to comment.
While there are legal hurdles, they can probably be overcome, the people said. The vice chair's term is set by internal ECB rules which can be changed by the Governing Council if it deems such action necessary.
The bigger issue might be whether Lautenschlaeger, 54, would be willing to stay. She's not enthusiastic about the idea and officials in Germany, her homeland, aren't keen on the suggestion, according to two people.
Lautenschlaeger said in August that while banking supervision is a "great passion" for her, she favors change at the top of the institution in order to bring a fresh perspective. She's also on the ECB's Executive Board and will keep that post after February.
There are reasons to be wary of too sharp a personnel change though. Nouy will be succeeded by Andrea Enria, who has seven years experience as head of the European Banking Authority drafting technical standards for regulating lenders, but not much directly supervising lenders.
ECB President Mario Draghi will be key to the decision as he distributes the portfolios of the six board members, though the SSM vice chair must also be agreed by the Governing Council and the European Parliament.
Should Lautenschlaeger leave the SSM, the role would likely go to either Yves Mersch, currently in charge of legal services and market infrastructure, or Vice President Luis de Guindos, who is responsible for financial stability and research. Both men have longest left to serve -- Peter Praet and Benoit Coeure step down next year, as does the president.