ECB Inflation Strategy May Fail Without Policy Shift, Pimco Says
One of the world's biggest bond buyers is skeptical that the European Central Bank will reach its new inflation target of 2%.
Policy makers in Frankfurt face a "credibility issue" after tweaking their objective but doing little to explain how the ECB will lift inflation to the desired level, Pacific Investment Management Co. portfolio managers Andrew Bosomworth and Konstantin Veit said in a note.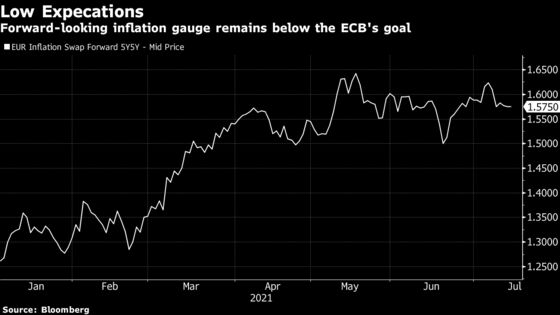 "With the policy rate already at the effective lower bound, the ECB's balance sheet bloated, and nothing new in the toolkit, we think inflation expectations will remain entrenched below 2%," they said. They also noted that financial markets didn't position for higher inflation after ECB President Christine Lagarde announced the results of the institution's strategy review last week.
Europe's five-year, five-year inflation swap rate, a measure of long-term inflation expectations, stood at 1.58% on Wednesday, slightly below the level before the ECB's announcement last week.
The ECB decided to ditch its old inflation goal of "below, but close to, 2%" after dealing with subdued consumer prices for a decade, and opted for a straight 2% target instead. It also pledged to deploy "forceful or persistent" measures to prevent low inflation from becoming entrenched when interest rates are close to the lower bound.
The first test of the new framework will come on July 22, when the ECB's Governing Council meets to set monetary policy and discuss how to adjust its toolkit to reflect the new objective. In Pimco's view, changing tack will be hard to avoid.
"The strategy review did not address specific methods to reach the 2% target," it said. "Setting a higher inflation target alone without altering the mix of policy therefore does little to assuage doubts that the ECB can achieve its new target."