ECB Has Become De Facto Yield-Curve Controller, Economists Say
(Bloomberg) -- The European Central Bank is using one of its main crisis-fighting tools to actively manage governments' borrowing costs, according to a growing number of economists.
The institution's 1.35 trillion-euro ($1.6 trillion) pandemic bond-buying program -- set to be adjusted this week -- has turned the ECB into a "de facto yield controller," HSBC's Simon Wells and Fabio Balboni wrote in a note on Monday.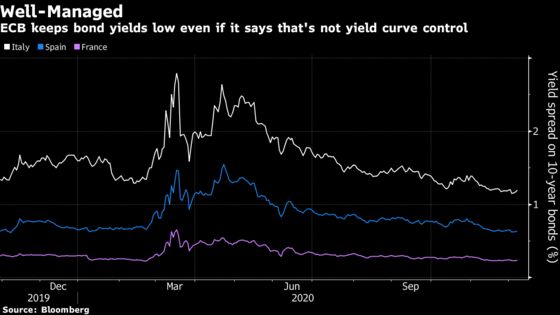 Such a strategy is used by the Bank of Japan and typically entails policy makers setting yield targets on longer-term bonds, before buying enough assets to defend the rates.
ECB officials have repeatedly rejected claims that bond purchases in the euro area are conducted with a specific yield goal in mind. Instead they've emphasized their main preoccupation is with preventing financial conditions from tightening -- to ensure the economy can continue to recover.
"The ECB has become a de facto yield controller, even if it could never announce a target yield level," according to the HSBC researchers. The institution is prohibited from financing governments, they argued, while also pointing out "the practical impossibility of targeting yield curves for each of the 19 member states."
UniCredit's Erik Nielsen has labeled the ECB's policy "in all-but-name 'yield-curve control'."
"Even if the ECB would never use the term, it is the right policy for these extraordinary times," he wrote in a Sunday note.
Executive Board member Isabel Schnabel said in a Bloomberg interview last week that the ECB's strategy to preserve financial conditions is a "somewhat broader concept" than setting an explicit yield target.
"We have never discussed yield curve control in the Governing Council since I've been here," said Schnabel, who joined the board at the start of the year. "That doesn't mean that we're not going to discuss it at some point in the future, but I don't think that explicit yield curve control with quantitative targets is on the table at the moment."
The central bank is expected to announce a boost to bond purchases by 500 billion euros on Thursday -- along with other tools to add monetary stimulus.