ECB Gets Counterintuitive Advice to Soften Slowdown: Raise Rates
(Bloomberg) -- The European Central Bank is getting some counterintuitive advice on how to respond to the euro area's deepening economic slowdown -- raise interest rates.
Some ECB watchers have started to voice concern that negative rates -- in place since June 2014 -- could become self-defeating as banks struggle to pass them on to depositors and may eventually be forced to curb credit. Their argument: Policy makers should remove what's effectively a tax on bank profits and offer another round of cheap longer-term financing to spur lending.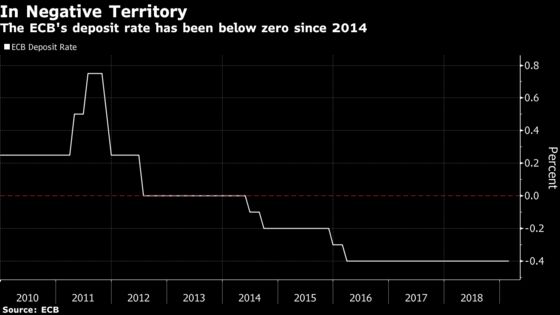 The public debate about policy options is getting louder as the ECB approaches its March 7 meeting, where officials are set to assess whether momentum has weakened enough to warrant new stimulus. The challenge is to find a solution that doesn't render the decision last year to end asset purchases a mistake. That's where thinking outside-the-box could come in handy.
Raise Rates and Give Strong Guidance
Louis Harreau, a strategist at Credit Agricole in Paris, predicts the ECB will lift its deposit rate to zero from minus 0.4 percent by the end of this year, combining it with a "very strong" forward guidance that essentially promises to keep borrowing costs unchanged for the next 18 months.
Lifting rates would ease pressure on banks and could help the industry to better transmit the central bank's ultra-loose stance to the real economy, according to Harreau. Ultimately, the ECB may be forced to be even more creative.
"We think that those creative measures may partially go via the banking system -- to encourage banks to take more risks," he wrote in a note on Monday. "That would require banks with stronger profitability."
According to Erik Nielsen, an economist at UniCredit SpA in London, negative rates penalize sounder banks in particular and discourage lenders from attracting deposits -- at a time when they should be building up buffers to absorb any potential impact from the economic slowdown.
He believes the ECB should bring the deposit rate back to zero or decide that it "will now only apply to extremely large deposits, held on account at the ECB for more than a year." In addition, policy makers should roll out a three-year funding operation for banks at a fixed, zero interest rate to encourage lending.
"Will they do it?" Nielsen asked in a note. "My guess is that we'll get a sketch of the TLTRO at the press conference on March 7."