ECB Faces Exit Turbulence as Outlook Worsens: Decision Day Guide
(Bloomberg) -- Mario Draghi might reflect on the difference a year can make as he and his European Central Bank colleagues meet to discuss a litany of risks facing the euro-zone economy.
Twelve months ago, the ECB president was able to cite "unabated growth momentum" after the Governing Council took a large step toward reining in stimulus by cutting monthly bond-buying in half. Policy makers gathering in Frankfurt on Thursday will discuss an economic expansion that's losing its luster in the face of concerns including Italy's budget standoff, U.S. protectionism, Brexit and tumbling markets.
Read more :

Follow TOPLive's coverage of the ECB policy decision
While the council will almost certainly stick to its plan to cap the asset-purchase program in December, Draghi is likely to stay vague over when interest rates might start to rise. The policy decision will be announced at 1:45 p.m. Frankfurt time, and the president will address reporters 45 minutes later. Here's a look at the topics on which he'll probably be quizzed.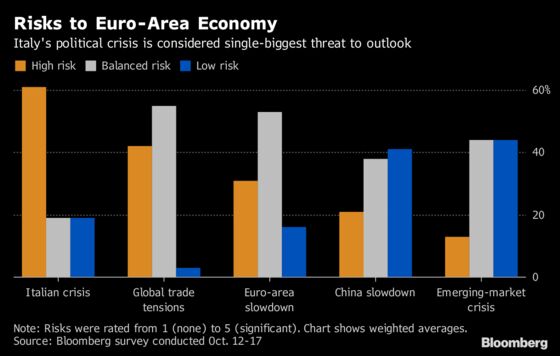 The ECB has described the risks to the region's outlook as "broadly balanced" since June 2017, citing solid domestic demand as the main pillar for the upswing. But now, external risks are threatening to undermine economic prospects.
Chinese growth slowed more than expected in the third quarter as a trade conflict with the U.S. took its toll. A global sell-off has put Asian stocks into a bear market. And Brexit talks remain deadlocked less then six months before the U.K. is set to leave the European Union, adding the risk of a disorderly rupture with Europe's key financial center to the list of concerns.
In the domestic economy, cracks are beginning to show. Growth in Germany probably stalled in the third quarter, and while the Bundesbank insists the slowdown is only temporary, the momentum has continued to evaporate. Factory orders in the euro area's largest economy contracted for the first time in four years, and business confidence declined.
A gauge for private-sector growth in the region slowed to the weakest since 2016 -- a level IHS Markit said Wednesday "would historically be consistent with a bias toward loosening monetary policy."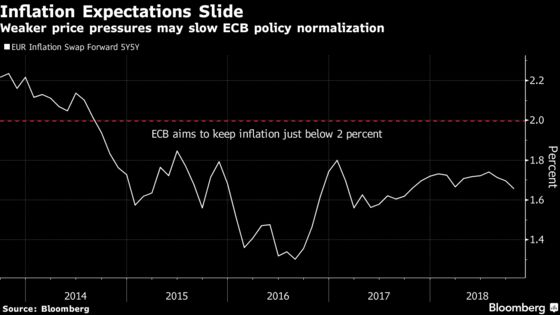 There's next to no sign that policy makers will divert from their plan to end asset purchases this year, but the first increase in interest rates -- currently anticipated by economists for September next year -- could be delayed if inflation continues to disappoint.
While the current rate of 2.1 percent is nominally above the ECB's goal that's largely due to oil prices. Underlying price pressures are running at less than half that pace, and market expectations for future inflation have slipped recently.
What our economists say:
"The ECB spectrometer gives credence to our forecast that it won't raise interest rates until September 2019 at the earliest. The gauge shows the most prominent members of the Governing Council -- President Mario Draghi and Chief Economist Peter Praet -- remain in the dovish camp with plenty of company. This suggests monetary tightening is unlikely to occur any time soon."

--Niraj Shah and Jamie Murray, Bloomberg Economics. Take a look at their ECB Spectrometer: A Guide to Doves and Hawks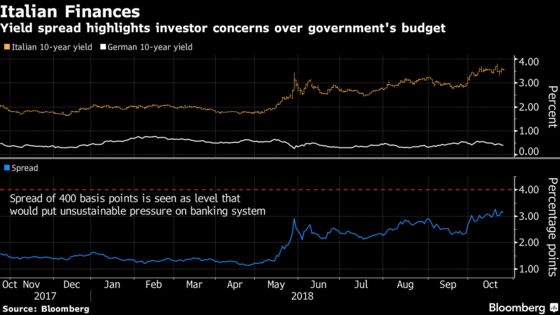 The yield on Italian 10-year bonds has almost doubled since elections in March as investors question the populist government's spending plans. The country's credit rating was cut by Moody's Investors Service to one step above junk, and the European Commission took the unprecedented step of rejecting its 2019 budget.
While Rome-born Draghi has appealed for cool heads to prevail, he also spoke firmly against questioning the bloc's rules.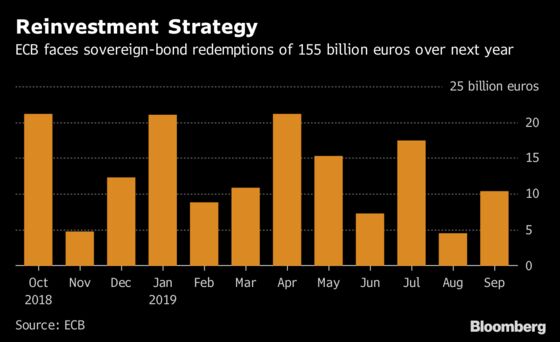 The ECB will provide stimulus for as long as necessary by rolling over maturing bonds under its 2.6 trillion euro ($3 trillion) quantitative-easing program. Policy makers have yet to decide whether to loosen their rules on when and how they reinvest across jurisdictions and maturities.