ECB Crisis Tool Reinvestment Revamp Drew Significant Pushback
The European Central Bank's decision to lengthen the reinvestment time frame of its emergency bond-purchase program to combat market stress drew pushback from a significant number of policy makers, according to officials familiar with the matter. 
The plan to extend that horizon to the end of 2024 was approved only because it was presented by the Executive Board as part of the wider package to exit pandemic stimulus, but many Governing Council members argued that it didn't conform to that aim, said the officials, who declined to be identified because such discussions are private.  
An ECB spokesman declined to comment on the deliberations.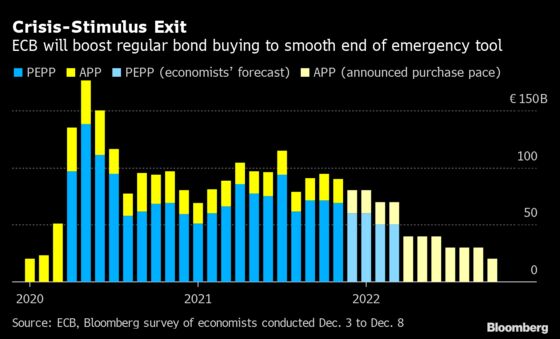 The ECB judged on Thursday that the outlook for growth and inflation is strong enough to permit an exit from a crisis stimulus footing in March. Policy makers opted to briefly boost normal bond-buying to avoid what President Christine Lagarde called a potentially "brutal transition." 
They took that decision against a backdrop of surging inflation, which is likely to be "elevated" before easing in the next year and then settling below the 2% target, she said. Economic growth meanwhile will rebound strongly, the president added. 
Several policy makers cast doubt on the likelihood of inflation slowing in line with ECB forecasts showing a drop in the rate to 1.8% in both 2023 and 2024, according to the officials.  
With Thursday also marking the final round of the ECB's long-term loans for banks, policy makers don't currently see the need for further such operations, according to the officials. 
Another line of discussion was how to absorb a likely increase in European Union-issued debt in the coming year, the officials said. One option included whether to create a new purchase program for bonds issued by supranational organizations and another the possibility of increasing the share of such purchases within the existing Asset Purchase Program, they added.