ECB Bond Reinvestments Have Investors Guessing Twist or Tweak
(Bloomberg) -- The biggest prize for bond investors when the European Central Bank makes its final monetary policy decision of the year might be a clearer plan for its 2.6 trillion-euro ($3 trillion) asset-purchase portfolio.
Despite weak economic data, policy makers are likely to confirm on Thursday that the quantitative-easing program will be capped at the end of this month. But chief economist Peter Praet, who writes the proposal, has said it's reasonable to expect clarity on the pledge to reinvest maturing debt "for an extended period of time."
The Governing Council could choose to save that clarity for next year. Still, investors and analysts are trying to gauge what the reinvestment plan might look like, with possibilities ranging from strategic management of the pot of securities to smaller tweaks that could smooth market stress.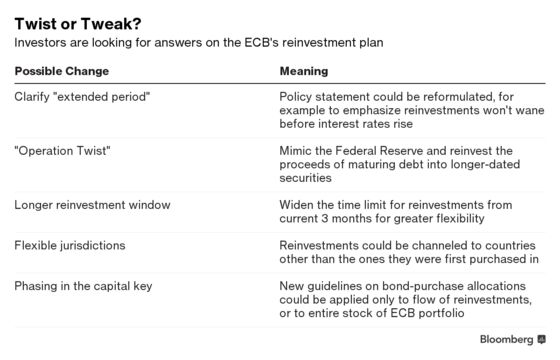 One ambitious suggestion is to reinvest the proceeds of maturing debt into longer-dated securities -- reminiscent of the U.S. Federal Reserve's "Operation Twist" in 2011 to sell short-dated bonds and buy longer-dated. That would allow the ECB to keep downward pressure on longer-term interest rates to ensure monetary policy stays loose.
Goldman Sachs Group Inc. says only an "explicit" twist would move bond prices significantly. Should the ECB implement such a strategy unannounced, it would shave just five basis points off German 10-year yields next year, and 10 basis points off peers in weaker economies such as Italy. Should the ECB announce such a plan, Goldman estimates the yield declines would be twice as steep.
Bank of America Merrill Lynch recommends a French 10s30s flattening trade versus bunds, with Barclays and Morgan Stanley preferring them outright.
Morgan Stanley strategist Elaine Lin says a passive Operation Twist, while anchoring the term premium after net asset purchases end could also open some room for normalization in interest rates. Indications that a 2019 rate hike remains in the cards could see the euro rally.
The ECB currently reinvests within three months of a bond maturing. It could choose to widen that window to more like six or 12 months, giving it more flexibility.
Citigroup says such an adjustment would help to smooth out bumps next year as bonds are set to mature unevenly -- from more than 25 billion euros in January to as little as 5 billion euros in August.
Citigroup also notes that Italy's spending plans and volatile politics could mean the ECB would be wise to save up some purchasing power for times of heightened market stress.
Location, Location, Location
The ECB only reinvests maturing bonds in the country in which they were first purchased. That self-imposed guideline is now complicated by a revision to the capital key, which is used to calculate how QE purchases should be allocated among euro-zone member states.
The capital key reflects the economic output and population of countries. The regular review that was completed this month reduced the weight of laggards such as Italy and increased the weight of nations with faster growth such as Germany.
The ECB could opt to realign with the new capital key by allowing reinvestments in countries other than where the original bond was issued. It could also switch funds between the public-sector and private-sector debt it holds.
Jurisdiction changes would be "negative" on paper for Italian debt, according to Citigroup strategists led by Harvinder Sian, but restoring the capital key is likely to be a very long-term goal and could create an impression that reinvestments would be used for markets in need.
TD Securities European rates strategist Pooja Kumra sees a possibility for tweaks within private-sector programs that could see a skew toward reinvestments into corporate debt, "providing a mild credit easing."
What Our Economists Say ...
"We expect the ECB's new capital key will be applied to maturing assets in the purchase program. That will prompt a slight shift away from Spanish and Italian bonds and toward German debt."

-- Jamie Murray, David Powell and Maeva Cousin, Bloomberg Economics. See their EURO-AREA PREVIEW
Another question is whether the new capital key will be applied only to reinvestments -- the flow of purchases -- or to the whole stock of bonds, and how quickly.
Citigroup says that if the changes are immediately applied to the entire stock, than that would be bearish for Italian and Spanish bonds.
Barclays says that whether these differences are applied to the flow or to the stock, "we deem the changes small enough not to have a meaningful market effect, especially as we would expect a phase-in period toward the new key."