East EU's Economic Growth Slows as Export Demand Deteriorates
(Bloomberg) -- Economic growth in the European Union's eastern wing mostly slowed in the last quarter of 2018 as output was affected by slowing export demand from the euro zone.
The slowdowns in Romania and Slovakia exceeded economists' estimates, according to data released by national statistics offices Thursday. Poland's expansion decelerated less than projected, while growth in Bulgaria remained unchanged. Hungary was an outlier with growth advancing to the fastest pace since 2004. Czech data due Friday will probably show the slowest of the group, although it will be double the pace in the euro area, which is seen expanding 1.2 percent.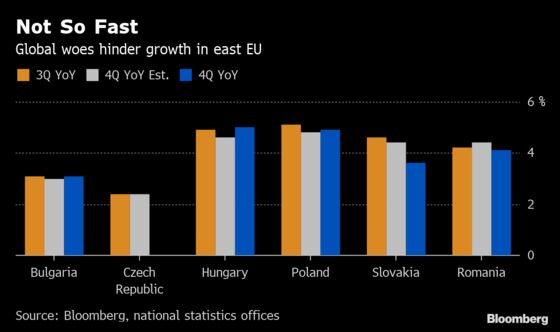 Growth in the region, an important hub supplying manufacturers in the euro zone, is past its peak, as the global downturn is affecting export-oriented economies. The authorities didn't release a breakdown of fourth-quarter growth and detailed reports are due in coming weeks.
The slowdowns may undermine arguments for more monetary tightening, as evidenced by last week's decisions to keep interest rates on hold in the Czech Republic, Poland and Romania. But it is being accompanied by faster inflation -- Czech January core price growth was the highest in at least a decade -- which may give policy makers room to raise interest rates.
Hungary's economy expanded 5 percent from a year earlier, amid a combination of a tight labor market, strong domestic demand and accelerating core inflation; that means policy makers may start monetary tightening next month even as peers across Europe have reacted to a slowdown with looser policy outlooks.
Poland's GDP expanded 4.9 percent in the last three months of 2018 from a year earlier, the slowest pace in six quarters. The headline number bodes well for Poland beating this year's target of 3.6 percent
Romania's 4.1 percent annual growth was little changed from the previous quarter; in addition to global woes the economy was hit by companies putting investment on hold because of a disputed "greed tax" currently under review for potential changes
Household consumption fueled by increasingly tight labor market was the key engine of expansion in Slovakia, which at 3.6 percent was the weakest in five quarters; exports are expected to pick up later this year aided by the new factory of Jaguar Land Rover
"We don't know the exact reason" for Hungary's out-performance, said Peter Virovacz, an economist at ING Groep NV in Budapest. "But the statistics office in its preliminary comments highlighted that market services were the biggest contributor to growth. As we could sense from the industrial data, industry could be the second main surprise factor."
Polish "growth is slightly decelerating as global factors aren't as positive as previously," Jaroslaw Janecki, chief economist at Societe Generale SA in Warsaw, said in an email. "The slowdown in Germany, the global trade war, tariff risks and uncertainty related to decisions of central banks all signal that the slightly below 4 percent growth we forecast for this year should be treated as a success."
"This year, we expect Slovakia's economic growth to average 3.4 percent, driven predominantly by domestic demand as the external environment is likely to remain cloudy. The slowdown is entirely attributable to external demand changes and should prove to be temporary," Erste Bank analyst Katarina Muchova said in a note.
Polish Economy Expands 4.9% Y/y in 4Q; Est. Grows 4.8% Y/y
Hungary's 4Q GDP Grows Most in 14 Years on Services, Retail Boom
Slovak Economy Expands 3.6% in 4Q From Year Ago, Below Forecast
Bulgarian Economy Expanded 3.1% in 4Q, Exceeding Estimate