Duterte Feels Lucky. Inflation May Make His Day
(Bloomberg Opinion) -- Duterte just did a Modi. He may be as lucky, too.
Philippines President Rodrigo Duterte bucked procedural niceties when selecting the man who will control the supply of money in his country. He bypassed three deputy governors of the central bank and installed a former budget minister and fan of stimulus to run Bangko Sentral ng Pilipinas.
The new governor, Benjamin Diokno, sounds eager to make good on his instincts and I doubt Duterte would have a problem with that. Diokno told reporters a few days ago that retreating inflation gives him room to juice the economy. That's true. But until now, BSP has balked at any steps to bring interest rates down.
Duterte delights in shaking things up. Fair enough; the appointment is his to make. What does this have to do with Indian Prime Minister Narendra Modi, who's now running for re-election?
When it comes to the Reserve Bank of India, those on Modi's team haven't been angels. Modi is on his third central bank governor in five years and when his second try, Urjit Patel, stormed out last year, the government turned to long-time bureaucrat Shaktikanta Das. The RBI then shocked observers with a cut at Das's first policy meeting in February.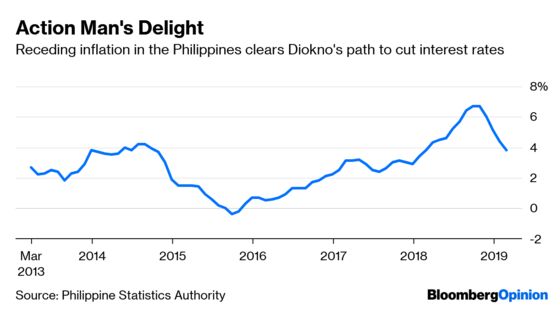 Just because the leaders arrived at their choice of central banker in an, er, unorthodox way doesn't mean decisions to ease monetary policy are wrong. Because the data justify putting more money into the economy, the new governors in India and the Philippines are insulated – in the short term – from charges they are bowing to political winds. They are very fortunate.
In the case of the Philippines, this is all prospective. Diokno has barely put his feet under the desk. That didn't hold him back Friday when, talking to reporters, he said inflation will likely settle within the bank's 2 percent to 4 percent target. With the benchmark rate at 4.75 percent, opportunities abound. He has also voiced support for trimming bank reserve requirements.
HSBC Holdings Plc forecasts reserve requirements will be clipped first, followed by reductions to the benchmark rate. The shift amounts to a "Diokno doctrine," wrote Noelan Arbis, an economist at HSBC.
Action men come in and out of fashion. Things can go wrong. A serious misstep, revival of growth or re-emergence of inflation would inevitably bring second-guessing. The latter two would be good problems to have.
Diokno's predecessor, Nestor Espenilla, died last month after a battle with cancer.
This column does not necessarily reflect the opinion of the editorial board or Bloomberg LP and its owners.
Daniel Moss is a Bloomberg Opinion columnist covering Asian economies. Previously he was executive editor of Bloomberg News for global economics, and has led teams in Asia, Europe and North America.