Dudley Urges Investors to Watch Economy, Not Fed's Balance Sheet
(Bloomberg) -- Former Federal Reserve Bank of New York President William Dudley said he's "amazed and baffled" at the attention the wind-down of the U.S. central bank's balance sheet has been receiving from investors, pointing to other culprits as the likely cause of recent volatility in financial markets.
"The Fed's balance sheet isn't the threat that market participants sometimes make it out to be," Dudley wrote in a Bloomberg Opinion column published Tuesday. "Market participants would be better off focusing on the economic outlook. This is what will drive monetary policy and the Fed's decisions about the appropriate trajectory for short-term interest rates over the next year. If the outlook changes, so will the Fed's thinking."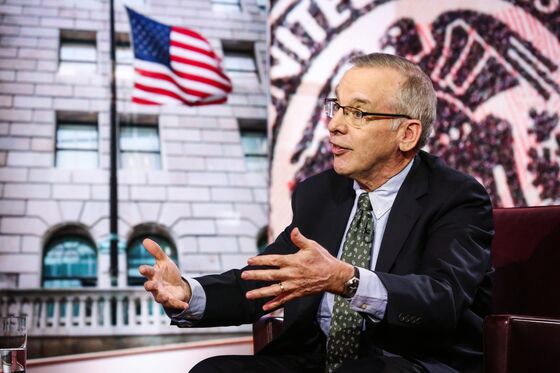 Dudley retired from the New York Fed in June after 10 years at the helm of the reserve bank. As its president, he played an instrumental role in the central bank's crisis-era bond-purchase programs -- which ballooned its balance sheet to $4.5 trillion at its peak -- and the subsequent wind-down that began around the start of last year.
While some investors have blamed an equity market sell-off and other financial turmoil on the Fed's handling of the balance-sheet reduction, Dudley pointed to other causes.
"Economic growth and corporate profits looked set to falter in 2019, as the effects of corporate tax cuts waned and the labor market tightened. Demand for scarce labor should increase its share of income, crimping profits," Dudley wrote.
"And if the economy didn't slow enough on its own, the Fed was likely to raise interest rates to make sure that happened," he wrote. "These developments weren't good for an equity market that had been accustomed to strong earnings growth and an accommodative central bank."