Dubai Loan Standoff Is Said to Pit State Company Against Lenders
(Bloomberg) -- A unit of the main conglomerate controlled by Dubai's ruler is facing off against creditors including Mashreqbank PSC after telling them it won't fully repay a loan that was restructured in 2013, according to people familiar with the matter.
The $1.2 billion syndicated facility is linked to Dubai Holding Investments Group LLC's acquisition in 2007 of a 10% stake in U.S. hedge fund Och-Ziff Capital Management Group, since renamed Sculptor Capital Management, the people said, asking not be named because of the sensitivity of the matter.
DHIG extended the maturity by seven years in 2013 as part of a restructuring after it was unable to service the loan in the immediate aftermath of the global financial crisis and its fallout in Dubai. The company is part of Dubai Holding, the conglomerate owned by the emirate's ruler, which controls assets from leisure developer Meraas to luxury hotel chain Jumeirah Group.
Mashreq, the emirate's third-biggest bank, has asked Dubai Holding to bail out its subsidiary by repaying the loan in full, the people said. It wasn't clear which lenders were also holding out.
Dubai Holding, Sculptor and Mashreq declined to comment.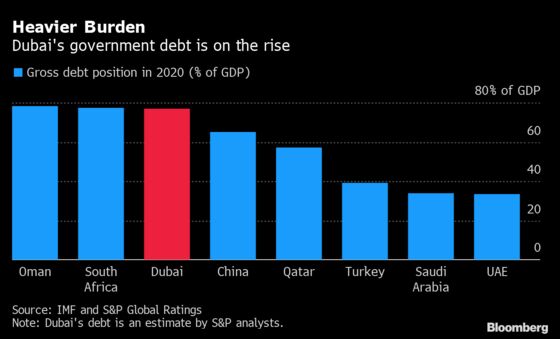 Under the loan agreement, creditors have the right to take ownership of the collateral -- Och-Ziff shares purchased by DHIG. But the creditors face a significant writedown given that the value of that stake has dramatically fallen since 2007.
Och-Ziff went public in 2007 and was once the largest publicly traded hedge fund firm in the U.S. It suffered an exodus of client cash and a slide in its share price after disclosing a regulatory probe in 2014.
Dubai Holding is arguing that under the 2013 agreement, it and the emirate are under no obligation to provide funds to repay the loan as creditors have recourse to the underlying Och-Ziff shares, the people said.
Most lenders have exercised this right and dropped their claims, taking possession of the Sculptor shares they're entitled to. However, a large minority of other lenders, led by Mashreq, disagree and are exploring alternative solutions, according to the people.
The standoff is a reminder that Dubai still has to cope with a debt hangover from its financial and real estate crisis more than a decade ago. Dubai required a bailout from neighbor Abu Dhabi in 2009 and several state firm such as Dubai World had to restructure billions of dollars in debt used to bankroll a buying spree in the preceding years.
It may also return the spotlight on to the emirate of Dubai and the extent to which it's responsible for providing a sovereign guarantee for loans on behalf of some of its state-linked firms. Dubai's government and its institutions have $8.2 billion of debt coming due in 2021, according to investment bank EFG Hermes, which estimates that much of the total is owed by government-related entities.