Dreams of an Asia-Pacific Trade Pact by Year-End Fading Again
Hopes of finishing a monster Asia-Pacific trade pact by year's end, and pushing back against a wave of protectionism, may be headed for disappointment again.
The 16 members of the Regional Comprehensive Economic Partnership have been eyeing November as a tentative deadline to close the deal after seven years of negotiations. Talks have been mired in disagreements around how to regulate e-commerce and labor migration, among other issues.
Now, under the weight of trade-war pressures, regional trade spats and a global economic slowdown, that deadline is looking less realistic.
"If you're not done in November, you don't get an RCEP," Deborah Elms, executive director of the Asian Trade Centre, a Singapore-based think tank, said in an interview Wednesday. "It's very hard to take on liberalization moves in a recession."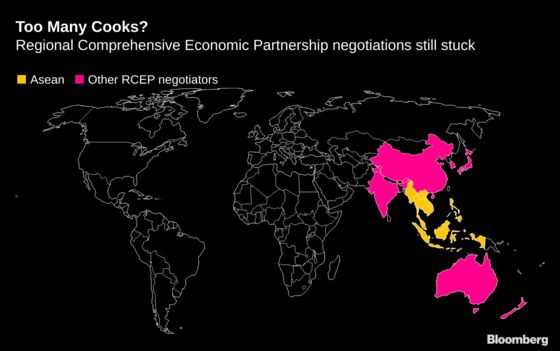 Negotiators already had resigned themselves to making little progress this year as a spate of elections -- including in India, Indonesia and Thailand -- interrupted progress. Elms sees fewer catalysts for a deal, and even more obstacles, in 2020.
Some economies in the region are already seeing early signs of recession. Next year, you'll have "economies going south and supply chains getting ruptured," said Elms, who has participated in almost all of the 27 rounds of RCEP negotiations.