Why Draghi Won't Copy Powell, Even If the Slowdown Gets Worse
(Bloomberg) -- Don't expect Mario Draghi to be as quick as his U.S. Federal Reserve counterpart to switch policy stance if the euro region's slowdown worsens.
Despite a recession in Italy and a significant loss of economic momentum in Germany, the European Central Bank president isn't showing much urgency to reverse course on a stimulus-withdrawal path that was originally supposed to include an interest-rate increase late this year.
"We struggle to see a quick reaction," said Oliver Rakau, an economist at Oxford Economics in Frankfurt. "The forward guidance buys them a lot of leeway to have time to assess the data. It doesn't give us anything specific, but if you have the guidance then you already have an easing option ahead."
While Draghi and colleagues have acknowledged the slowdown and shifted downward their view of the outlook, they also point to rising wages and job creation as reasons for optimism. For now, they have stopped short of changing their guidance on ultra-low rates, let alone resuming quantitative easing that created a stimulus hoard of 2.6 trillion euros ($3 trillion) in government bonds.
Fed chairman Jerome Powell's move on Wednesday to halt a rate-raising cycle might give Draghi some pause for thought, though the ECB has rarely been in lockstep with the Fed over the past decade.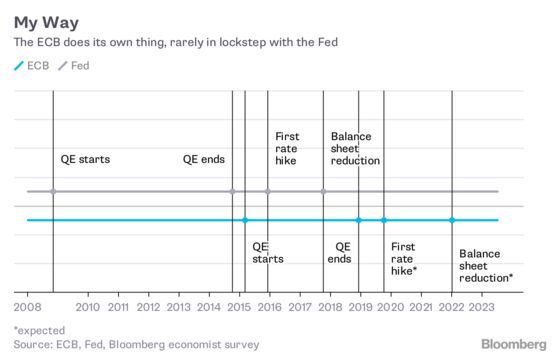 The euro-zone central bank attempted to raise interest rates in 2008 and 2011 at times when counterparts were looking to ease, while its own version of quantitative easing only began in 2015, well after that policy had been halted in the U.S.
As ECB officials start work in coming weeks on forecasts for their next decision in March, their mettle is already being tested by repeated bouts of bad news. The government in Germany, the region's motor, now predicts the weakest growth in six years, while euro-zone economic confidence is in its worst losing streak in a decade. On Thursday, data showed Italy's economy spent the second half of 2018 in a recession.
While the ECB won't flinch easily, here's how its response could play out this year if the region's economy takes a turn for the worse.
'But we're already helping'
Officials from the ECB's Governing Council are likely to keep repeating their commitment to keep interest rates low at least until through the summer. They're also reinvesting maturing bonds to ensure the existing stimulus effort doesn't shrink, and they're likely to hammer that point. Draghi did so again in the European Parliament this week.
The ECB could also intensify its frequent mantra that governments should enact growth-friendly policies such as structural reforms, in the hope it might actually be heard.
'Alright, we won't raise this year'
Before even thinking about further stimulus action, Draghi is likely to look at formally extending the ECB's commitment to freezing low rates beyond the current projected endpoint of after the summer. He's already hinted that investors have a point in betting that it's going to take longer than that.
For the Italian, such a pledge means he might leave office at the end of October without ever having raised borrowing costs.
'Have some more cheap money'
Even without an economic slowdown, the ECB will soon need to replenish its targeted loans for banks if it wants to avoid too many lenders paying them back, causing a tightening of liquidity in the region. Officials could use that to respond to the worsening data, bolstering and recalibrating that program to attempt to give the economy a shot in the arm.
In December, the ECB concluded its QE program. Officials emphasized this was logical after vanquishing deflation and reinvigorating economic growth. But it's possible they were also starting to reach the limits of their program, both in its effectiveness and with how many bonds of each country they had allowed themselves to buy.
Draghi's rhetoric allows for the possibility of restarting QE. On Monday, he told European Parliament lawmakers that "if things go very wrong, we can still resume other instruments in our toolbox."
Such a move is currently not part of the ECB's plan, however. And if it were needed, officials might have to be imaginative in its design, including loosening national limits on debt purchases, or exploring other asset classes beyond government bonds.
In any case, Draghi doesn't plan to be around to see it happen: "At this point in time, we don't see such a contingency as likely to materialize, certainly not this year."