Draghi Sees Brexit Negotiations Ending in Gradual Transition
(Bloomberg) -- European Central Bank President Mario Draghi expects Brexit negotiations to lead to a "gradual transition," though he also warned that the risk of financial instability if there is no deal warrants attention.
"If the private sector at some point were to decide there's a cliff edge or a non-managed process, then the private sector behavior could be a source of instability," he said in a hearing with Irish lawmakers on Thursday in Dublin. "We have to monitor that very, very closely."
Read more:
Ask Banks How They Like Low ECB Rates, Exasperated Draghi Says
Draghi said that the impact of a no-deal scenario on the euro area as a whole would be "limited," in terms of both trade and financial stability. But he added that Ireland would be hit harder because of its close ties to the U.K., making it essential to "prepare for all possible outcomes."
The ECB president also said a still-favorable outlook for the euro-area economy shouldn't be a cause for complacency, and the central bank can be flexible in its policy.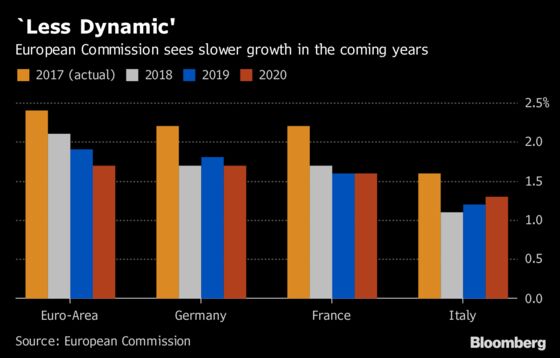 "We keep a lot of optionality in our message, in our monetary policy guidance," Draghi said. "If things were to get worse, we can always extend the period of time, we can always change our forward guidance."
The risks surrounding the region's growth prospects are still "broadly balanced," he said, but the threats from protectionism, emerging-market weakness and financial volatility remain "prominent."
ECB Governing Council member Ewald Nowotny struck a similar note at an event in Stuttgart, Germany.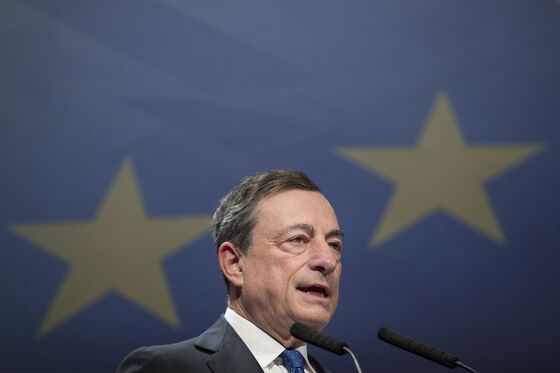 "We have no recession risk," he said. "Rather, a normalization of economic growth."
Read more: Italy Not Too Big to Save If Crisis Worsens, ECB's Nowotny Says
Draghi's assessment comes after the European Commission downgraded its forecast for 2019 growth, highlighting global trade tensions and Italy's fiscal plans as key challenges.
"While we are now at the point where we anticipate -- subject to incoming data confirming our medium-term inflation outlook -- that we will end net asset purchases at the end of the year, significant monetary stimulus will still be needed to ensure the continued sustained convergence of inflation," Draghi said. "The overall favorable outlook and our still accommodative stance should not invite complacency."