Draghi Says ECB Has Room to Do More, But Needs Fiscal Backup
European Central Bank President Mario Draghi said the institution can do more if needed to boost inflation, and repeated his call for euro-area governments to support this effort with fiscal spending.
"All instruments from interest rates to asset purchases, to forward guidance are ready to be calibrated," he told the Financial Times in an interview. He also said the ECB is "symmetric" in its pursuit of its price -stability target.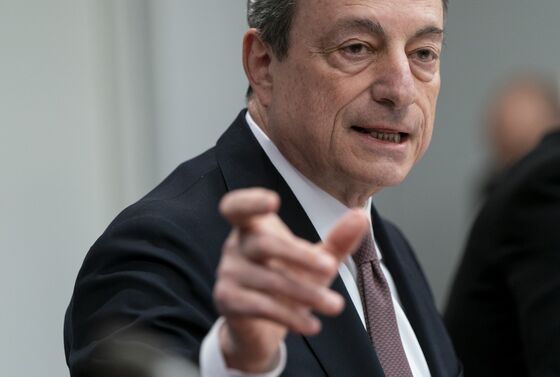 As he nears the end of his tenure at the ECB, Draghi repeated his view that more government spending "could greatly help" the central bank's mission. He warned that the current loose stimulus "may have to last a long time if there is no support from fiscal policy" and will be less effective unless governments loosen their purse strings.
His comments will probably irk countries such as Germany which have traditionally rejected talk of loosening government budgets. The ECB's most recent policy meeting sparked a revolt from officials upset over Draghi's plan to reactivate quantitative easing, with central bank governors from countries including Germany, France and the Netherlands opposing the measure.
German Executive Board member Sabine Lautenschlaeger unexpectedly quit last week, more than two years before the end of her term. She spoke against the need for renewed bond-buying before the meeting.
Draghi indirectly blamed the Bundesbankfor his rather testy relationship with the German public. His whatever-it-takes pledge to save the euro was challenged in courts by a group of German lawyers. Newspaper Bild portrayed him as a vampire sucking out savings the day after the ECB's most recent stimulus decisions.
"Explanation of our policies to the citizens of the euro zone relies on national central bank communication," ECB president, who leaves at the end of October, told the FT. "Whenever they supported Governing Council decisions at national level, public opinion at country level was also supportive."
Draghi also pointed to a number of dangers faced by the 19-nation region, including the risk of a no-deal Brexit, which has gone up.
He urged a closer fiscal union for the euro area, saying without it the currency zone will remain a "fragile construction."
"Given the inherent weakness of national states in a globalized world, what matters is to make the union stronger. In some areas, further integration achieves this goal," Draghi said. "We need a common euro-zone budget. Clearly the political debate on that still has a long way to go. But I am optimistic."