Draghi Cuts Taxes, Raises Pension Age in His First Budget
(Bloomberg) -- Italian Premier Mario Draghi's government has set aside 12 billion euros ($9.3 billion) to cut taxes on income and businesses as part of a larger plan to boost long-term growth.
The cabinet approved the 2022 budget on Thursday which included the proposed tax reductions. About 8 billion of that will go towards the actual tax cuts on people and businesses, including the so called tax wedge, or the difference between what employers pay and what employees see in their pay slips. The rest will be cuts to other taxes.
The government also raised the age required to retire, a major stumbling block to approval of the budget that has been overcome. The anti-immigrant League party led by Matteo Salvini, which is part of the coalition supporting Draghi, had raised objections to some elements of the pension plan slowing approval.
The plan is part of the former European Central Bank president's wider effort to lift Italy's chronically low rate of economic growth. Draghi confirmed 2021 output will surpass 6%, bouncing back from an almost 9% decline last year.
"We need to maintain this growth in the years to come as well," Draghi said during a press conference in Rome. "There is increased attention on the quality of growth and this is new."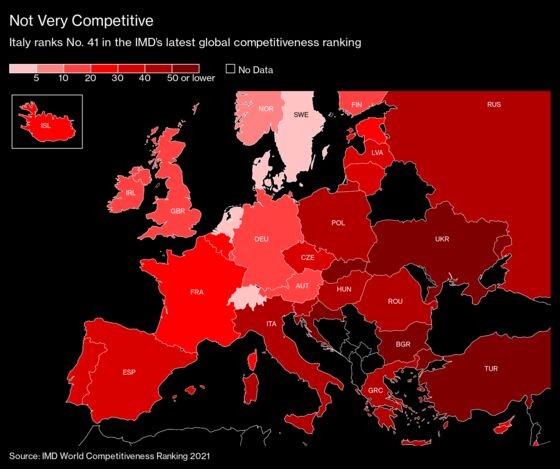 The current pension system, known as "quota 100," allows people to retire if they have made at least 38 years of contributions, and are at least 62 years old. Under Draghi's plan, that system will be replaced in 2022 by a new one requiring the sum of age and years of contributions to equal at least 102 and starting from a higher minimum age of 64. 
Finance Minister Daniele Franco said Thursday the budget sets 4 billion euros aside for the health sector, 3 billion euros to reform the welfare system and 1 billion euros to refinance the so-called citizen's income, an unemployment benefit. The government also confirmed 2 billion euros will go towards mitigating an increase in energy prices.
The country has one of the highest Covid-19 vaccination rates in the world, with over 82% of the eligible population immunized, helping it overcome the lingering effects of the pandemic. Aid from the European Union is supporting the recovery, and ECB action in financial markets is keeping borrowing costs under control.