Draghi's Winding Road to Rate Hike Leads to Successor's Door
(Bloomberg) -- Mario Draghi put the European Central Bank on the road to raising interest rates, though he may never get the chance to complete the journey himself.
Sixteen months before his crisis-marked tenure at the central bank draws to a close, the president has shifted the ECB back toward the old norm of using borrowing costs as the main policy tool. For much of the past four years, bond-buying has been the flagship measure for reviving inflation and the economy after Draghi found that even negative rates couldn't do the job alone.
The Governing Council used its June meeting to announce that asset purchases will be phased out by the end of December, signaling the euro zone has the economic momentum to put the tool back on the shelf. But it was a pledge to keep interest rates at current record lows "at least through the summer of 2019" that caught investors by surprise, striking down market expectations that borrowing costs might rise as soon as the first half of next year.
That knocked the euro lower. At the same time, the ECB managed to avoid a repeat of the taper tantrum -- a surge in bond yields -- that accompanied the U.S. Federal Reserve's first mention of tapering of its own program in 2013.
"This was the most dovish normalization I could have expected," said Karsten Junius, an economist at Bank J Safra Sarasin in Zurich.
The End of an Era
Bond buying at 30 billion euros ($35 billion) a month until end of September
Purchases phased out with 15 billion euros a month in October, November, December
End of net asset purchases remains subject to incoming data
Maturing debt reinvested for an extended period after end of net asset purchases
Interest rates expected to stay at current levels at least through the summer of 2019, or longer if needed for inflation
ECB Executive Board member Benoit Coeure said on Friday that the bond-purchase program "worked, which is why we're ending it." Separately, Bundesbank President Jens Weidmann said there's an "ongoing economic boom" in Germany.
Speaking in Vienna, Governing Council member Ewald Nowotny said the ECB can declare it's already reached its inflation goal, but the task now is to secure "this success permanently" and the full policy normalization will take "significant time."
Responding to ECB's decision, some economists pushed back their expectations for the first rate increase. Deutsche Bank now sees lift-off in September instead of June 2019. HSBC predicts it will happen at Draghi's last meeting as president in October "meaning his successor won't need to raise rates at their first meeting."
Draghi has never lifted borrowing costs as ECB chief. If he manages to do so before his eight-year term ends next October, he'd be moving much faster than the Fed, which waited 14 months for its first hike after completing tapering in 2014.
If he doesn't, the burden of tightening policy for the first time since 2011 -- a pre-recession increase under Jean-Claude Trichet that Draghi reversed as soon as he took office -- would fall to the next head. The current frontrunner in a Bloomberg survey is Weidmann, a longstanding critic of ultra-loose policy.
"All eyes will be on Draghi's successor, and the likely pressure on the next ECB president to raise rates multiple times in 2020," Marchel Alexandrovich, senior European economist at Jefferies in London, said in a note to clients. "For now, however, this is someone else's problem, and Draghi is focusing minds only on the year ahead."
What Our Economists Say
"In all likelihood, December will see the ECB buy its last bond. It would take a major shock to change that outlook."

-- Jamie Murray and David Powell, Bloomberg Economics. Click for their EURO-AREA INSIGHT
The ECB is occupying the middle ground as global central-bank policies diverge. Only a day earlier, the Fed raised U.S. interest rates for the second time this year and signaled a faster pace of tightening. The People's Bank of China chose not follow with its own tightening though, as its economy shows signs of slowing, and the Bank of Japan on Friday maintained its stimulus while downgrading its assessment of inflation.
Draghi stressed the risks ahead, saying that while slower euro-area growth is probably temporary, trade protectionism and potential heightened market volatility need monitoring. He referred to an "increase in uncertainty" multiple times and the ECB cut its 2018 forecast.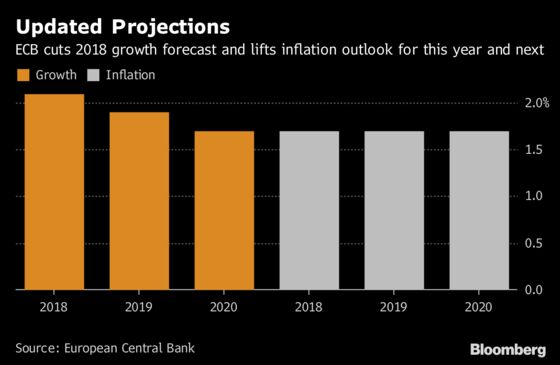 "Rate guidance is now the ECB's key policy tool," said Nick Kounis, an economist at ABN Amro in Amsterdam. "If risks to the outlook rise, the ECB is likely to effectively ease monetary policy by signaling an even longer period before its first rate hike, rather than resuming quantitative easing."
Read More:
Draghi Invokes 'Ancestors' in Warning of Protectionism's Dangers