Economists Ask If Draghi Is Considering 2019 Rate Hikes
(Bloomberg) -- Mario Draghi's market-moving turn of phrase on inflation has economists wondering if he's building a case to raise interest rates late next year.
The European Central Bank president said he sees a "relatively vigorous" pickup in underlying inflation. That's a term he has rarely ever used to refer to price pressures, and certainly not this year.
Investors took immediate note, sending the euro to a three-month high and the Stoxx 600 index to a session low. Markets priced in 50 basis points of rate hikes over the next 24 months, compared with only a single increase of less than 25 basis points recently.
Yet figures this week are expected to show just the slightest improvement in inflation, and Draghi cited no new data when he spoke in Brussels on Monday. He merely referred to existing ECB economic projections and month-old figures on wage growth. The central bank declined to elaborate on his remarks.
With oil prices at a four-year high -- and some saying they could get back to $100 a barrel -- there's an upside risk to headline inflation that could feed through to underlying price pressures if it boosts wage demands.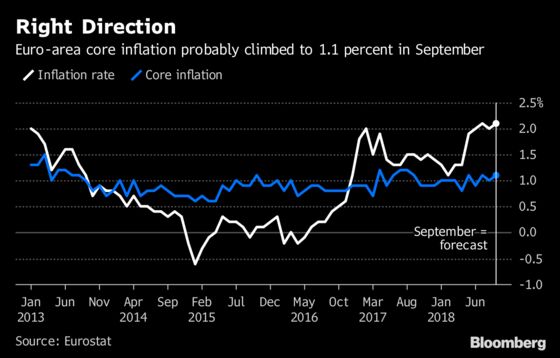 "Draghi may view the market as not paying enough attention to the core inflation projections compared to the headline," said Florian Hense, European economist at Berenberg in London. "As the end of quantitative easing draws nearer, which the ECB linked to a sustained adjustment in inflation, we should expect it to use stronger words when commenting on the inflation outlook."
The central bank's projections show headline inflation at 1.7 percent in each of the next two years. While that's not quite at the goal of just under 2 percent, it's expected to become more entrenched. The core rate, excluding volatile items such as energy and food, is seen accelerating to 1.8 percent in 2020.
Policy makers have already decided that's good enough to warrant ending their asset-purchase program at the end of this year. They expect rates to stay at record lows "at least through the summer of 2019."
The big question is how to signal what happens after that. Executive Board members Peter Praet and Benoit Coeure -- who both are scheduled to speak on Tuesday -- said last week that there'll soon be a need to communicate more on the pace of increases to avoid stirring up markets.
While neither has suggested they'd rush to raise borrowing costs, pressure is certainly coming from some quarters.
Ewald Nowotny, Austria's central bank governor, said Sunday he's more optimistic about the inflation outlook and "not totally alone" in that view. He said the ECB should "ask if it's really sensible" to fix borrowing costs for another year. Dutch governor Klaas Knot said late Monday that loose monetary policy for too long will have financial stability repercussions.
Some clues to the path of price growth will come on Thursday with money-supply and bank-lending figures. Inflation data for this month to be published on Friday is expected to show the headline rate accelerating to 2.1 percent from 2 percent on the back of higher oil prices. The underlying rate is predicted to be just 1.1 percent, though still an improvement on August's 1 percent.
"It is important to note that the slight changes to Draghi's rhetoric on inflation doesn't matter for the time-frame that is within the current forward guidance," Anders Svendsen, an economist at Nordea Markets, said in a note. "Rates will remain on hold until after summer 2019 and net asset purchases will stop at year-end, but it matters for the prospects post September 2019."