Draghi's Secret Ballot Turns ECB Bank Watchdog Race Into a Cliffhanger
(Bloomberg) -- A secret ballot of European Central Bank policy makers on Wednesday has turned the race to become the euro region's next bank-supervision chief into a cliffhanger.
Irish central banker Sharon Donnery and Andrea Enria, the Italian head of the European Banking Authority, are the final two candidates to replace Daniele Nouy as chair of the Single Supervisory Mechanism when her term ends in December. The relatively unusual procedure of a private vote at the Governing Council, which normally decides matters by consensus, means members will be freer than normal to be guided by conscience.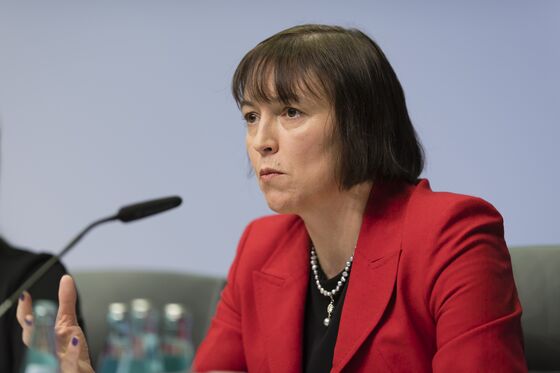 Donnery was until recently the front runner, but the strength of Enria's candidacy and the confidential nature of the selection procedure has now made the contest too close to call, according to euro-area officials familiar with the process. An ECB spokesman declined to comment.
The SSM chair is the only position where ECB officials have a significant role in selection, unlike jobs such as Draghi's, which is in the gift of governments. Not everyone gets to cast a ballot. A rotation system for voting rights means governors from France, Latvia, Lithuania and Luxembourg will be excluded. Slovenia doesn't currently have a governor. The ECB will publish a statement after the count.
Donnery's selling points are her 20 years of experience -- she's currently deputy governor at the Irish central bank -- and the ECB's longstanding desire to boost the number of senior female executives.
Yet informal hearings last month in the European Parliament saw Enria winning fans because of his seven years running the European Banking Authority, which drafts technical standards for regulating lenders. A third candidate, France's Robert Ophele, didn't make the cut.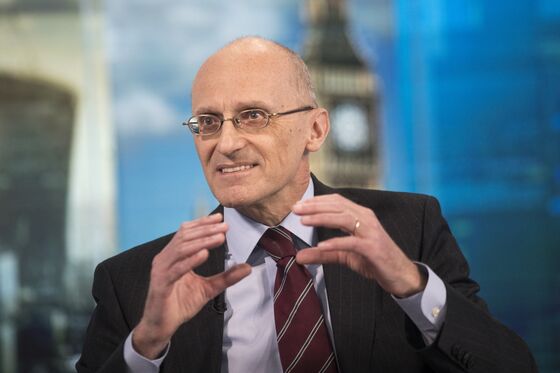 A victory for Enria would likely worry countries concerned about putting an Italian in charge of solving the euro area's bad-debt problem, given that Italy has the largest pile of nonperforming loans. Yet Donnery has run into conflict with the European Parliament over her role in devising a tough plan for reducing such loans.
Whoever wins will take on responsibility for an ailing industry. Banks are still trading at a fraction of the valuations they fetched during boom times and many are struggling to move beyond repairing their businesses. Profits have been eroded by record-low interest rates and stricter regulation, as well as pressure to detect money laundering after a string of scandals. One answer floated by bankers and supervisors alike is a wave of mergers, but Europe's fragmented regulation makes combining banks across borders a daunting task.
The stakes are higher than just oversight of the euro zone's biggest lenders though. The nationality of the winner will matter for three other top appointments that will reshape the ECB leadership next year, including the presidency after Mario Draghi.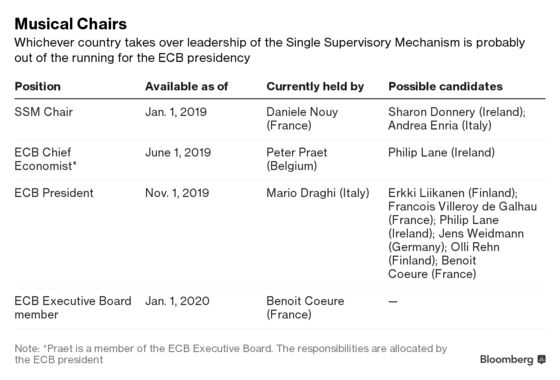 Whoever gets the Governing Council's nod will still need formal approval from the European Parliament before his or her appointment is signed off by governments.