Draghi-Like Policy Move Boosts India Debt Market as Yields Drop
(Bloomberg) -- India's credit market, which is showing early signs of thawing after a prolonged crisis, is getting a boost after the nation's central bank tapped unconventional policy tools to cut borrowing costs and spur economic growth.
Funding costs for top-rated local companies eased after the Reserve Bank of India offered to inject as much as $14 billion in cash through one- and three-year funding operations. While average yields dropped across the corporate bond yield curve on Thursday after the RBI announcement, the biggest fall was on top-rated three-year notes, which plummeted 19 basis points to 6.51%, the lowest since 2005.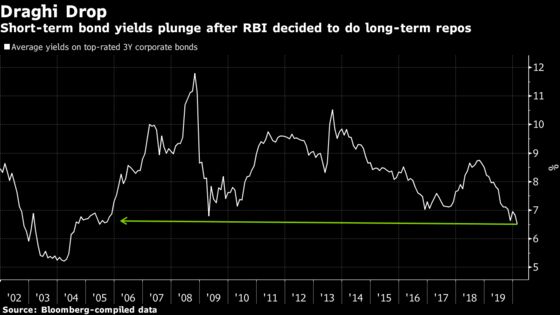 Declining short-term yields provide a respite to firms, especially developers and shadow financiers, that are seeking to access funds in an economy headed for its weakest expansion since 2009. RBI is tapping the unconventional monetary policy tool earlier used by the European Central Bank under Mario Draghi, after it struggled to transmit fully 135 basis points of benchmark rate cuts done last year.
"Prima facie, it provides an arbitrage opportunity for banks to borrow for one-year or three-year at the repo rate and invest in higher-yielding assets such as government securities and corporate bonds," Kotak Mahindra Bank analysts led by Suvodeep Rakshit said in a note. "It would reduce the short term borrowing costs for the commercial and financial sector."