Draghi Faces Seven-Week ECB Confidence Test on Euro Economy
(Bloomberg) -- Mario Draghi's confidence in the euro-area economy is about to face a seven-week test.
A raft of key data over that period will culminate in updated projections for the European Central Bank's final policy meeting of the year, when the president and his colleagues must judge whether to halt their bond-buying program. For now, Draghi is taking the current weakness in his stride, saying after Thursday's Governing Council session that it's either temporary or reflects the problems of individual countries and the auto industry.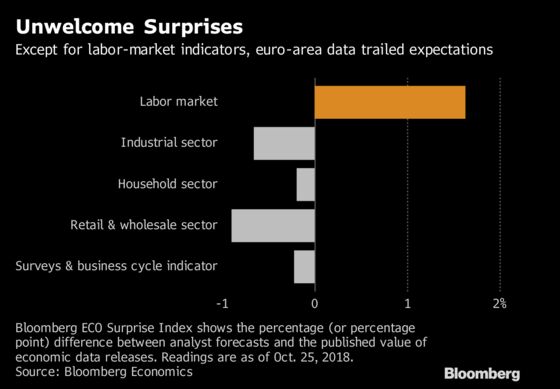 "He didn't want to sound too worried because that would beg the question of whether monetary policy should change, and he clearly didn't want to go there," said Dirk Schumacher, an economist at Natixis in Frankfurt. "It's not that the recovery won't continue, but there is enough to justify a change in the balance of risks."
A euro-zone downturn would put the bloc further out of sync with its economic peers, potentially jeopardizing the global expansion. With the U.S. remaining an "engine of growth" and China's expansion stabilizing despite trade tensions, it's the third leg of the world economy that looks "wobbly," JPMorgan Chase economists said this week.
Draghi insisted that risks to euro-area growth remain "broadly balanced" but listed a "bunch" of downsides. They include the constant threat of protectionism, market volatility, and -- closer to home -- concerns over the financial health of his native Italy. He also cited the prospect of a financial-stability threat from a disorderly Brexit if banks don't prepare in time.
What Our Economists Say:
"The Governing Council has become somewhat more cautious about the growth outlook. However, the risks to the euro-area economy are insufficient to warrant any change to monetary policy."

--David Powell and Jamie Murray, Bloomberg Economics. Read our EURO-AREA REACT here
A pressing issue is whether the euro zone's boom of 2017 is now morphing into a malaise. Business surveys in the days running up to the latest policy meeting showed private-sector momentum at the weakest in more than two years. The Bundesbank warned that Germany, supposedly the region's economic powerhouse, probably stagnated last quarter, largely because automakers are struggling with the switch to new emissions testing.
Financial-market volatility is further undermining confidence, with global stocks heading for their worst month in more than six years.
Yet Draghi said weaker economic momentum isn't the same as a downturn, and that there's no reason to doubt the ECB's conviction that inflation is on the mend as rising wages promise sustained price increases later. The Governing Council stuck to its plan to cap its 2.6 trillion-euro ($3 trillion) quantitative-easing program at year-end, and kept interest-rate guidance that implies a hike in borrowing costs late next year.
Recent data are "definitely alarming" but "a lot of this has to do with global trade tension, and a lot of this is going to dissipate as well," Candice Bangsund, vice president and portfolio manager of global asset allocation at Fiera Capital Corp., said in a Bloomberg Television interview. "The growth and inflation backdrop in the euro zone is quite constructive" and "should allow the ECB to proceed with their path toward normalization."
The potential pitfalls in coming weeks start with the first reading of third-quarter gross domestic product on Tuesday, after 0.4 percent growth in the previous three months. Inflation data the next day will signal whether underlying price pressures are recovering from September's unexpected slowdown.
Professional forecasters polled by the ECB lowered their growth projections for this year and next while keeping the inflation outlook unchanged.
Draghi will keep a keen eye on the budget stand-off between Italy's populist government and the European Commission, and any potential spillovers in the rest of the regional economy. He called on the nation's politicians to "tone it down" and explained at length how rising Italian bond yields are seeping into loans to households and companies, but said there's no chance he'll play "mediator" in the crisis.
On Brexit, he said it would take "an extraordinary amount of lack of preparation" by banks for a no-deal outcome to trigger large financial-stability risks.
"The signal they are sending is that there needs to be a lot of risks" for the central bank to shift from its current policy path, said Claus Vistesen, chief euro-zone economist at Pantheon Macroeconomics in Newcastle, England, noting that Draghi twice mentioned the December projections. "It has to be a combination of financial volatility and really, really bad economic data."