Draghi Readies for First New Year Speech as Economy Falters
(Bloomberg) -- Mario Draghi broke his silence on Tuesday after sitting through a month of growing doubts over the durability of the region's economic expansion.
The European Central Bank president is making his first appearance of 2019 -- and probably his final one before the Jan. 24 policy decision -- at the European Parliament in Strasbourg. Comments in the morning marked the 20th anniversary of the euro with a call for more reforms, though the focus is on a longer address and closing remarks in the afternoon.
Draghi is in parliament on the day that Germany reported it only just skirted a recession. The weakness of the region's biggest economy and supposed powerhouse is among the most troubling developments after a slew of feeble data that has some questioning whether the ECB will ever be able to start raising interest rates.
While the central bank managed to halt its bond-buying program last month without roiling markets, investors have essentially written off any chance of rate hike this year and are wondering what policy makers might do should the slowdown turn into something worse.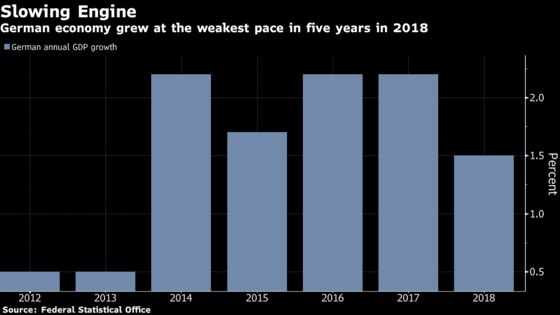 "It's a critical point -- there is a slowdown in global growth and it could eventually spill over into the domestic economy," said Nick Kounis, an economist at ABN Amro NV in Amsterdam. "Their assessment of the situation is too benign."
Draghi and his colleagues acknowledged the murky outlook at their last meeting, when they cut their economic forecasts. At the same time, they've kept language that suggests they could still raise rates later this year.
Central banks in much of the world are expressing caution over their own policies. Federal Reserve Chair Jerome Powell has helped calm markets by signaling that U.S. policy makers could pause rate hikes if needed.
Read More...
Slowdown or Meltdown? Reading the Tea Leaves on Global Growth 
Since the last ECB meeting, euro-area data have largely worsened, with confidence falling, activity in manufacturing and services dropping to the weakest since 2014, and industrial production slumping.
Germany's slowdown comes on the back of slumping global demand and huge disruption in the car industry, the statistics office said on Tuesday. It managed to eke out "slight" growth in the fourth quarter, so avoiding a technical recession after a contraction in the previous three months.
What Our Economists Say...
"A shock to autos output has knocked the economy off track, but weakness is now emerging in other sectors too. The risk is that the torpor proves hard to shake and growth shifts to a lower gear."

--Jamie Murray, David Powell and Maeva Cousin, Bloomberg Economics. See their GERMANY COUNTRY PRIMER