Draghi Defends ECB Independence Amid Italian Populist Attack
(Bloomberg) -- Mario Draghi defended the independence of central banks hours after Italian populists blamed him for adding to market tensions that threaten the health of the nation's banks.
"Credibility hinges on independence," the European Central Bank president said in a speech in Brussels on Friday. "The central bank should not be subject to fiscal or political dominance and should be free to choose the instruments that are most appropriate to deliver its mandate. Legislators should therefore protect the independence of central banks."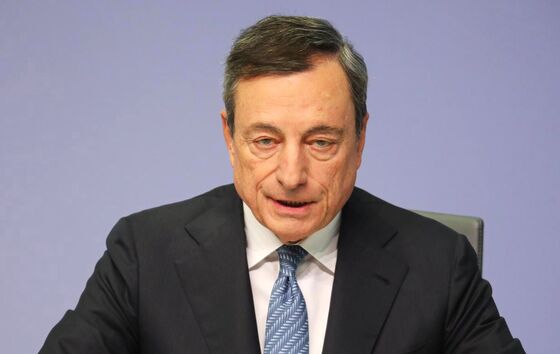 Draghi has been drawn into a public spat with his homeland's government after he highlighted the risk from rising bond yields amid Italy's budget dispute with the European Union. The ECB chief used his regular press conference on Thursday, after the central bank's policy meeting, to call on the administration to "reduce the tone" and suggested it should pursue policies that rein in borrowing costs.
Italian Deputy Premier Luigi Di Maio responded on Friday by accusing Draghi of "poisoning the climate," and Senate finance committee head Alberto Bagnai said the ECB president's warnings are "absurd."
The back-and-forth also demonstrates how the independence of central banks is under attack in nations where populist movements have gained strength.
The Bank of England has frequently been lambasted by pro-Brexit lawmakers for highlighting the economic risks of the country's departure from the EU. Turkish President Recep Tayyip Erdogan, who holds the unorthodox belief that high interest rates cause rather than curb inflation, has attacked the country's central bank for rate hikes.
Especially high-profile are U.S. President Donald Trump's accusations that the Federal Reserve is undermining economic growth and sparking a selloff in stocks with its interest-rate hikes.
Read more:
Trump and a Brief History of Fed (In)dependence: Eco Week Ahead
"Today in other jurisdictions, other parts of the world, we see concerns being publicly expressed about whether the central bank should pursue a normalization path in the face of rising inflation," Draghi said. "These deeds have so far had limited consequences only because central banks are independent and credible."
Italy is doubling down on a controversial deficit target of 2.4 percent of output for 2019, despite having a total debt burden equivalent to more than 130 percent of gross domestic product, after the European Commission rejected its budget proposal. Draghi has said he's confident both sides will reach a deal, but insists the ECB is prevented by law from financing governments.
Late on Friday, S&P Global Ratings lowered its outlook on the nation's creditworthiness to "negative." While the move means Italy avoided a second rating cut in a week, after Moody's Investors Service reduced it to one notch above non-investment grade, it still leaves the country at risk. The BBB grade is two levels above junk.
Draghi is in a tricky position as the ECB prepares to cap its 2.6 trillion-euro ($3 trillion) bond-buying program at the end of the year. Halting net purchases threatens to put further upward pressure on Italian yields, which have already climbed to multi-year highs, and a financial crisis in the nation could spill over into other euro-zone economies. Yet any decision to extend the program would draw accusations that he's acting in the interest of a single country.
While the Rome native didn't specifically refer to the Italian criticism in his speech, he did contrast the nation's economic history with a role model for central-bank autonomy: Germany. He noted that from 1970 to 1990, average inflation and unemployment in Germany -- home to the Bundesbank, which has been independent since its foundation more than six decades ago -- were both significantly lower than in France and Italy.
"If central banks were to enter into a form of coordination with fiscal authorities that reduced their independence, it would ultimately be self-defeating," he said. "Fiscal authorities would have an incentive to use monetary policy to achieve other objectives. And this would end up with monetary policy becoming fiscally dominated, which history shows is inconsistent with price stability in the long run."