Draghi Doesn't See Need for More Stimulus to Combat Growth Woes
(Bloomberg) -- Mario Draghi said that while the euro-area economy is looking bleaker than anticipated, it's not bad enough to warrant additional monetary support.
The president of the European Central Bank blamed "softer external demand and some country and sector-specific factors" for the slowdown, but indicated he still has some confidence in the underlying strength of the economy.
"If things go very wrong, we can still resume other instruments in our toolbox. There is nothing objecting to that possibility," he told lawmakers in Brussels in response to a question on whether net asset purchases could be restarted. "The only point is under what contingency are we going to do this. And at this point in time, we don't see such contingency as likely to materialize, certainly this year."
A series of unexpectedly weak numbers from 19-nation region forced a change in the ECB's language last week, with Draghi stating the risks to the growth outlook have "moved to the downside." Culprits behind the slower momentum include weaker growth in China and persistent trade tensions that have damaged the mood among executives and households.
Read More...

EURO-AREA INSIGHT: Slower Growth? Yes. No Growth? Think Again
Officials are now trying to gauge how persistent the current slowdown will be and whether they need to be even more cautious about withdrawing stimulus. They've already halted their bond-buying program and expect interest rates will stay at record lows at least through the summer. Some have even questioned whether they'll be able to raise borrowing costs at all this year.
One issue is whether they will renew long-term funding for banks, which could help financial institutions pass on low interest rates to households and businesses.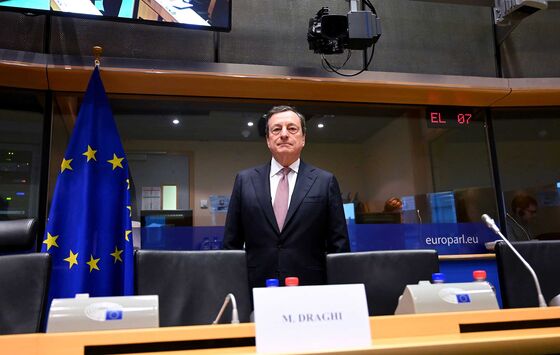 Draghi's statement on Monday broadly echoed his comments after last week's policy meeting. He said that continuing uncertainties "in particular relating to geopolitical factors and the threat of protectionism" are weighing on sentiment.