Don't Read Too Much Into Indonesia's Bond Rally, Analysts Say
(Bloomberg) -- The last time Indonesian bonds rallied this hard, it was in July when some investors bet that the emerging-market rout had bottomed. This week's revival may be just as short-lived.
Yields on the nation's 10-year bonds dropped for a third day on Thursday, taking the decline to around 30 basis points, the most in three months. Optimism was ignited as the rupiah's precipitous slide stalled and the finance minister said the government may post the smallest budget deficit in six years.
It's still too early to call a top to this year's relentless advance in yields, according to analysts at Westpac Banking Corp. and BNP Paribas SA. While a stabilizing currency, government measures to support the market, and a narrowing budget deficit help, the risks in the broader environment continue to weigh on the nation's assets, they said.
"It may be premature to say the worst is over,'' said Frances Cheung, head of macro strategy for Asia at Westpac Banking in Singapore. "As trade tensions remain under the spotlight, currencies with current-account deficits tend to suffer more whenever risk aversion heightens."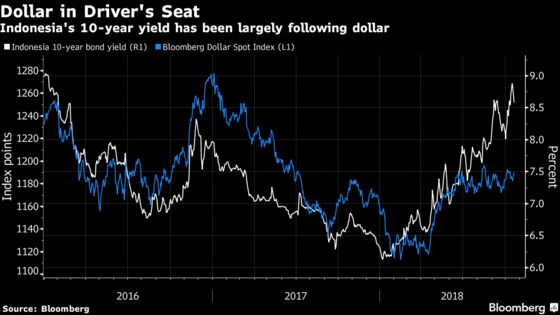 That would suggest investors shouldn't read too much into this week's price action, at least not on a wider basis. The nation's markets frequently serve as a weather vane for emerging-market sentiment in Asia, with global funds owning almost 40 percent of its debt.
Back in July, Indonesia's bond rally had lasted five days before an escalation of the U.S.-China trade war led to a new round of emerging-market sell-offs.
The yield on the 10-year bonds has climbed from as low as 6.1 percent in January to 8.9 percent this month, as Bank Indonesia raised its policy rate by 150 basis points this year to defend the currency which slid to a 1998 low. The rate hikes are set to continue, with focus now turning to the central bank's meeting next week, according to Altaz Dagha, a rates strategist at BNP Paribas in Singapore.
"Recent commentary from BI continues to favor a 'front-loaded, pre-emptive' stance," said Dagha. "Fitting with their reaction function this year and the rupiah still at the lows, we expect another 50 basis point of hikes this quarter."