Don't Expect Post-Covid Spending Boom in Europe, Commission Says
Many European consumers are unlikely to go back to pre-crisis levels of spending even after lockdowns are phased out, the European Commission said.
In a special assessment of its monthly consumer survey, the executive arm of the European Union said excess savings accumulated during lockdowns seem to be concentrated among high-income earners whose propensity to consume is relatively low. Poorer households, meanwhile, have socked away very little and are unlikely to splurge on major purchases.
How fast will consumers spend away their pandemic savings is key to the pace of the world's economic recovery. It's even more crucial for Europe, where the rebound is seen lagging other advanced economies after a stuttering start to its vaccination program.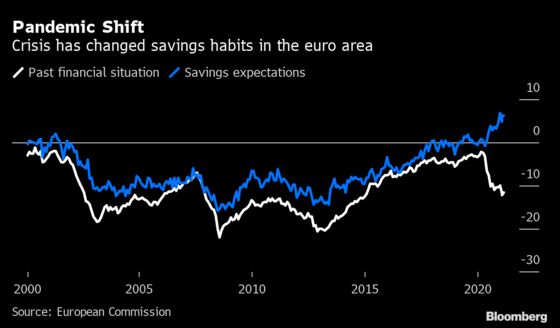 "All in all, the analysis of the consumer survey results by income and age groups does not point to significant additional impulses from consumer spending going forward," the commission said in the report.
Whether due to lockdowns or concerns over job stability, excess savings across the euro area ballooned over the past year, with Barclays Plc putting the figure at 600 billion euros ($723 billion).
But the steady decline in consumers' assessment of their finances over the past 12 months implies "that even once the virus containment measures are lifted, many consumers may be unable to return to pre-crisis levels of consumption," according to the commission's report.
The findings "point to growing wealth inequality and an increasing generation gap," the report said.