Don't Expect Hong Kong's Vacant-Home Tax to Cool Prices
(Bloomberg) -- Hong Kong's plan to tax unsold new apartments may have little effect on the city's red-hot housing market.
The levy was announced Friday by Chief Executive Carrie Lam as part of a broader effort aimed at boosting supply in the world's least affordable property market. Yet analysts from Goldman Sachs Group Inc., Morgan Stanley and JPMorgan Chase & Co. say the latest impost won't dent soaring prices.
Taming Hong Kong's property boom has been one of the biggest challenges for the city's lawmakers, who've unveiled a series of measures in recent years to cool the market. But those measures have fallen short as demand has surged ahead of a chronic under-supply of homes, helping propel a more than 50 percent increase in prices over the past five years.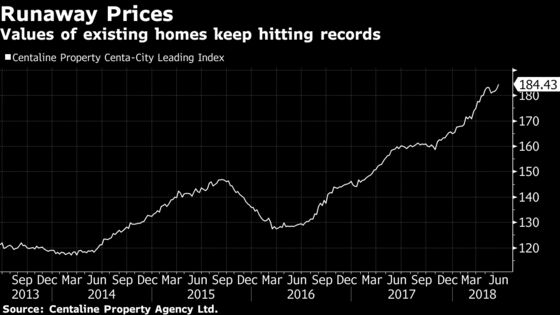 With the latest rules, apartments left unsold for more than six months will be taxed at twice the annual rental income, or about 5 percent of the unit's value. That's a level analysts say developers can easily absorb.
"The absolute level of tax looks relatively manageable," Goldman Sachs Group Inc. analysts said in a note Monday, comparing the relatively small cost against annual price volatility.
Because most vacant units are high-value properties, they tend to have lower rental yields, so the vacancy tax as a percentage of the property's value will also be lower, according to Cusson Leung, head of property and conglomerates research at JPMorgan Chase & Co. in Hong Kong.
The tax is also less than Singapore's, which starts at 4 percent if an apartment is empty two years after completion but rises to 12 percent if it's still vacant after four years, Morgan Stanley analysts said in a report.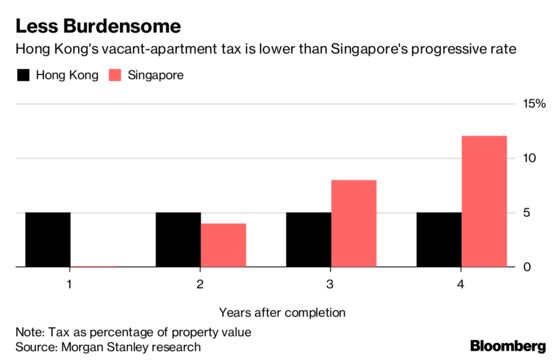 The new tax has to be approved by lawmakers, giving developers six to nine months to sell empty apartments.
In addition, of the 9,000 vacant units in the primary market as of March, about two-thirds were completed since 2017. Developers may not need to sell them as quickly as the government expects, Goldman said.
Developers with more inventory could be under pressure in the near term, but selling units will boost cashflow and strengthen balance sheets in the medium term, according to Morgan Stanley.
In Hong Kong, developers usually sell apartments as soon as possible, because their central concern is to "recoup funding and move on to buy more land," said JPMorgan's Leung. Unsold inventory is composed of either top-end apartments that take time to sell, or units in an area where land supply is limited.
"The vacancy tax may be of marginal impact. In most occasions, there would be no need to apply such a rate," Leung said.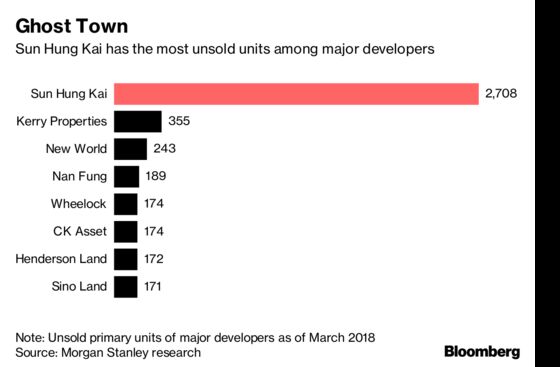 Developers aren't worried yet.
"The introduction of the vacancy tax won't affect our sales strategies," Victor Lui, deputy managing director of Sun Hung Kai Properties Ltd., said in an email.
Sun Hung Kai had the largest number of unsold apartments in the city, holding about 2,700 of the 9,000 empty units, according to Morgan Stanley, citing Centaline Property Agency data.
The company now holds less than 1,000 empty units after receiving certificates of compliance, Lui said. Centaline's data reflects the number of units that have obtained occupancy permits, as yet unsold or not yet leased.