Dollar's Share of Global Foreign Reserves Hits Lowest Since 2013
(Bloomberg) -- The dollar's share of global central-bank reserves fell to the lowest level since 2013 while holdings of the Chinese yuan rose for a fourth consecutive quarter, International Monetary Fund data showed Friday.
The U.S. currency accounted for 62.3 percent of global allocated foreign-exchange reserves in the second quarter, down from 62.5 percent and the ninth decline in the past 10 quarters, the IMF said in a report. The drop occurred despite a 5 percent jump in the value of the dollar in the second quarter. The euro, yen and yuan each gained as a share of allocated reserves.
Political rifts between the U.S. and other countries could be to blame, but the numbers don't offer firm conclusions, said Steven Englander, Standard Chartered Plc's head of global G-10 FX research and North America macro strategy. Recent emerging-market turmoil could require interventions by some central banks, and the dollar is the easiest currency for that purpose, he said.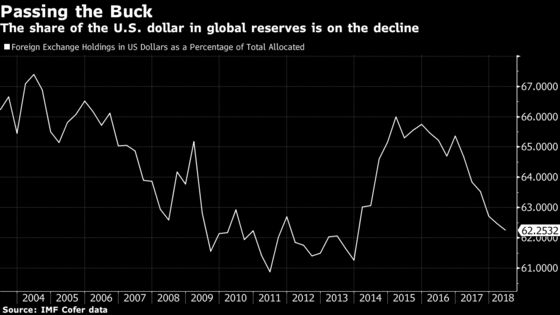 "Countries having political issues with the U.S. may have wanted to re-allocate dollars," Englander said. Even still, it's difficult to determine whether the shift was due to "normal smoothing operations," he said.
The shift to allocated reserves could also be skewing the data, according to Alan Ruskin, global co-head of foreign-exchange research at Deutsche Bank. The share of unallocated reserves -- those not disclosed in the IMF data -- fell in the second quarter to 8.4 percent from 10.4 percent.
"I wouldn't go too far in running with the idea that people are shifting out dollars in any aggressive sense," he said.
The ramifications of the shift are still significant. For more than a half century, the dollar has been the reserve currency of choice for most of the world's central banks, for its depth and stability in global markets. That status has given the U.S. some notable advantages, helping America keep a lid on funding costs and run budget deficits, as trading partners park their dollars in U.S. government bonds.
The benefits also extend to American companies because the widespread use of dollars in global trade, such as for oil and commodities, often makes it cheaper for U.S. multinationals to borrow compared with many of their overseas competitors.
Other findings in the IMF's latest figures show China's yuan -- officially called the renminbi -- is increasingly incorporated in global reserves, growing to 1.84 percent as a share of allocated holdings from 1.4 percent in the prior quarter. That came as the value of the currency fell 5.2 percent against the dollar in the April-June period.
"China's efforts to internationalize the renminbi are getting to bear some fruit," Englander said.