Dollar Frenzy That Jolted Lira Starts to Dissipate Among Turks
(Bloomberg) -- At least one thing in Turkey is moving in the right direction: locals have stopped hoarding dollars and euros.
Households and companies sold a net $1.2 billion of hard currency in the week ended May 3, the latest central bank data show. That's the fourth straight week of sales and takes a retreat in their foreign-currency holdings over the past month to just under $3 billion.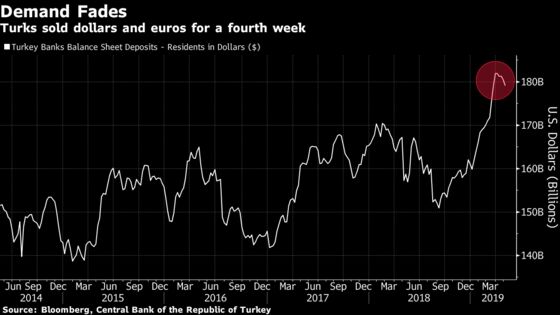 It could be a welcome development for the battered Turkish currency, which has lost around 14 percent of its value against the dollar this year. Local investors drove their stockpile of dollars and euros to a record as they sought a hedge against rampant inflation and uncertainty before elections in March.
An increase in lira deposit rates is helping the shift by making it more attractive to own liras. The weighted average cost on a short-term bank deposits rose for a third week to 21 percent, the highest level this year.
But more trouble could be just around the corner. Turkey is now preparing for a rerun of a municipal vote in Istanbul after President Recep Tayyip Erdogan's ruling AK Party lost the March election by a narrow margin, threatening to usher in a fresh period of political turmoil. That could unleash another wave of dollar buying by Turks, and pile pressure on the currency again.
On Thursday, the central bank unexpectedly tightened liquidity, a sign for some investors that it may follow through on its commitment to raise interest rates if needed to curb runway price growth. It next meets to set rates on June 12, less than two weeks before the vote in Istanbul.
The lira was trading 1 percent stronger at 6.1314 against the dollar as of 8:38 a.m. in Istanbul, trimming its loss this week to 2.7 percent.