Dollar Dealt a Blow as 'Buy Everything Else' Emerges After G-20
(Bloomberg) -- The dollar's struggles may bleed into the new year as U.S. President Donald Trump and Chinese leader Xi Jinping's tariff cease-fire stokes a relief rally in risk assets and fuels optimism that global economic growth may pick up.
The greenback fell against almost all of its Group-of-10 peers Monday as markets digested news that the world's two largest economies will halt any new levies for 90 days. Commodity-linked currencies strengthened as crude oil prices surged and U.S. equities gained.
An improving trade environment should boost the global economy and resurrect the "reflation'' trade that weighed on the dollar at the start of 2018, according to Jefferies LLC. That points to dollar weakness at the hands of emerging-market currencies, as well as the euro and the yen.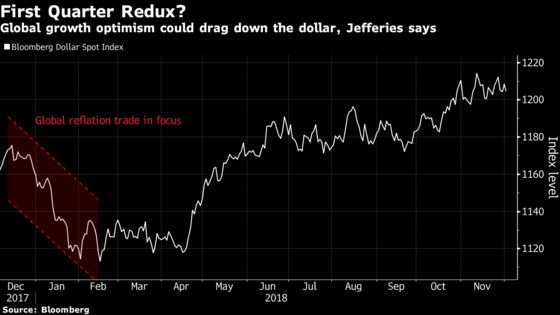 "This sets us up well for a potential 'buy everything else' FX strategy as we enter Q1," Brad Bechtel, head of foreign-exchange at Jefferies, wrote in a note. "We may enter a period of dollar weakness as the global growth resynchronization trade comes back into the market mindset."
The Bloomberg dollar index was down 0.3 percent. One of the best performers among G-10 currencies was the Australian dollar, which benefits from Australia's close link to commodities and Chinese trade.
While there may be pain ahead for dollar bulls, some risks heading into 2019 could end the greenback's gloom, Bechtel said. Europe, for example, has its own troubles to contend with.
"I am not certain this persists for too long, though, as the March time frame could be noisy," Bechtel wrote in an email. "We have this trade negotiation window ending, Brexit issues coming to a head, and Italy bond issuance kicks up in earnest, so if there is remaining tensions around budgets, it will come back to the forefront."
And at least one analyst called for betting against further gains in the Aussie, which some traders see as a proxy for confidence in the outlook for global trade. Credit Agricole SA recommended selling the Aussie versus the U.S. dollar, targeting 70 cents, compared with its current trading level of 73.60 cents.
"There have been two themes that have driven the recent rally in AUD/USD – a less hawkish FOMC and an easing in U.S.-China trade tensions," Credit Agricole's David Forrester wrote. "We think that neither of these reliefs for the AUD will last."