Digital Currency Race Prompts Trials, Scrutiny by Bank of Israel
(Bloomberg) -- The Bank of Israel, already used to testing the limits of monetary policy, is eager not to fall behind in crossing a new frontier for central banks.
Policy makers in Jerusalem are expanding their research into central bank digital currencies, or CBDCs, and sounding out stakeholders about risks and benefits, according to Yoav Soffer, head of the bank's digital shekel project. But its roll-out still remains hypothetical given questions that range from the token's cost to the impact on the banking system, Soffer said. 
After running experiments using Ethereum, the central bank is planning further technical studies in the year ahead to assess the viability of different types of digital money, Soffer said in an interview. "Right now, we are increasing the resources devoted to the digital shekel project, both in terms of finances and people," he said. "A digital shekel has great potential to increase competition and innovation within the payment industry."
Analysts at Bank of America Corp. have argued that central banks will inevitably launch their digital coins to ward off the risk of losing monetary control in a world of decentralized cryptocurrencies and the potential for a widely adopted digital dollar. 
In fits and starts, Israel is coming around to explore the idea of a CBDC after shelving its initial effort in 2018, when a team set up by the central bank recommended against issuing a digital version of the shekel.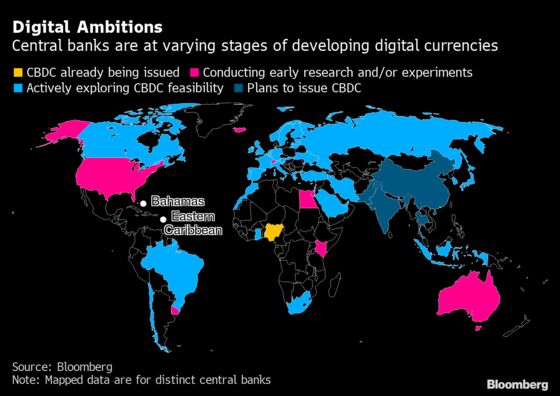 Although the central banks of the world's biggest economies are actively exploring the prospect of digital tokens that could eventually replace physical tender, it's the small island nations in the Caribbean and Western Atlantic that have taken the lead.
A token like the digital shekel could "reduce the risk to financial stability and monetary sovereignty" if the public adopts private coins or digital currencies issued by other central banks, according to a May 2021 report by the Bank of Israel.
In Israel, whose shekel staged one of the world's biggest rallies against the dollar last year, the central bank has been intervening heavily in the foreign-currency market to hold back the exchange rate. 
The bank restarted research on its own digital currency in late 2020, led by Soffer, who works for Deputy Governor Andrew Abir. The program will also be looking at the impact that a digital shekel might have on the Israeli economy, payments systems, the banks, and the credit markets. 
Israeli policy makers have spoken with a wide range of stakeholders over the last year, including tech companies at home and abroad as well as other central banks, according to Soffer. 
While the majority of the responses have been "very favorable," some concerns were raised about the bank's proposal that a future CBDC could be completely or nearly fee-less. 
"Many, many private sector institutions are interested to contribute to our work," he said. "We need to take our steps and see what we need, and when."