Deutsche Bank Weighs Raising Traders' Bonuses by About 10%
(Bloomberg) -- Deutsche Bank AG is considering raising bonuses for its fixed-income traders by roughly 10% to reward them for a bumper year that left Chief Executive Officer Christian Sewing more reliant than ever on their performance.
Previous headcount reductions and cuts to bonuses for many other units will likely keep the total amount of money the lender pays out in variable compensation slightly below last year's level, according to people familiar with the matter. No final decision has been made and the amount can still change, the people said, asking not to be identified discussing the private information.
A Deutsche Bank spokesman declined to comment.
Sewing is relying increasingly on the trading unit to keep his turnaround plan on track after the Covid-19 pandemic fueled a global surge in volumes, while negative interest rates weigh on other businesses. Now the CEO, who had initially planned to cut the trading business back further and focus more on corporate lending, is balancing the need to retain top talent in the investment bank with regulators' request to exercise constraint in compensation.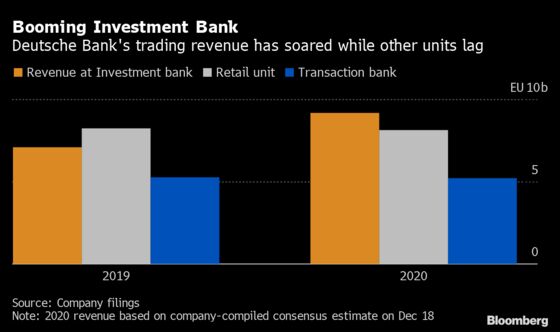 Sewing said in a Bloomberg TV interview this month that Deutsche Bank's bonus decision will "honor" outperformance. It will also take into account payouts at competitors and the unit's performance in the remainder of the year, he said.
The planned average increase by about 10% per trader would put Deutsche Bank in the middle of the range set by its competitors. JPMorgan Chase & Co. and Goldman Sachs will increase bonuses for traders by as much as 20%, Barclays Plc is weighing raises of about 10% and Bank of America Corp. is considering keeping the pool flat, Bloomberg News has reported.
There will be differentiation between individual traders as well as across trading units, leading to bonus increases that can vary strongly, the people said.
Debt traders under Ram Nayak and the corporate finance staff under Mark Fedorcik are set to see higher payouts, after revenue at the investment bank grew 35% in the first nine months of the year, ending years of decline. Volumes continued to grow in October and November, the lender has said.
The private bank and the corporate bank, by contrast, each shrank 1% between January and September. Retail bankers under Karl von Rohr and the corporate bankers under Stefan Hoops now face lower bonuses, the people said.
European banks are also under pressure from the European Central Bank to exercise "extreme moderation" when deciding bonuses. The euro area's top regulator wants to ensure banks don't deplete their capital cushions while the economic impact of the pandemic is still unclear.