Denmark May Need an Intervention as Krone Continues to Struggle
(Bloomberg) -- The world record holder of negative interest rates may soon have to tighten policy.
The Danish krone is now trading firmly on the weak side of its parity with the euro, at levels which last prompted the central bank to meddle with the currency markets.
"If they do what they normally do, they'll start to intervene," Jan Storup Nielsen, an economist at Nordea Bank, said in a phone interview in Copenhagen.
Nielsen said the purchase of 10 billion kroner ($1.5 billion) or more would foreshadow an increase in the benchmark rate, which first fell below zero back in July 2012. The central bank's key objective is to tie the krone to the euro.
"Intervention is the first line of defense for the central bank; the second is an independent Danish rate hike," Nielsen said. "When they start to intervene, we know they are a step closer to an independent rate hike."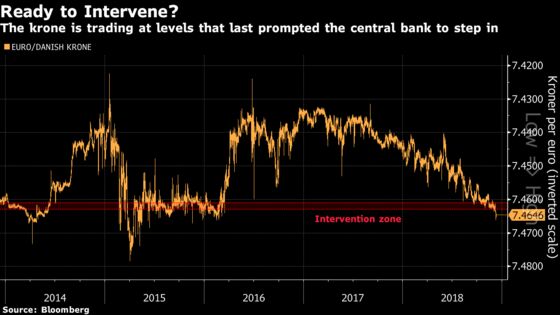 Denmark is experiencing moderate but solid growth, low inflation and near-full employment. So what are the main reasons for the krone's weakness?
The first is that the market is getting ready for the European Central Bank to end its quantitative easing program, with a tightening of excessive liquidity in the euro area expected to drain capital from Denmark. The second is that Denmark's current account surplus has dropped from its December 2016 peak amid disappointing exports to Germany and concerns over global trade tensions as well as the U.K.'s departure from the European Union.
Nielsen cites one more reason for an imminent intervention: December is a traditionally weak month for the krone. "We're not quite sure why," he said.