Denmark Intervenes for Second Straight Month to Back Krone
(Bloomberg) -- Denmark intervened for a second consecutive month to defend its peg to the euro amid waning demand for the krone.
The central bank bought 1.9 billion kroner ($291 million) in January, it said in a statement on Monday. It has now purchased 13.5 billion kroner over the past two months, after in December stepping in to boost its currency for the first time in almost three years.
As interest rates head higher and stimulus is withdrawn around the word, the Danish krone is losing luster. The development marks a shift for the AAA-rated country, which spent much of the past half-decade dumping kroner to weaken the currency.
The interventions also put the central bank a step closer to start raising its record low interest rate, which has been below zero since mid-2012.
Nevertheless, the intervention was likely at beginning of January when the krone was weaker, said Jens Naervig Pedersen, a senior analyst at Danske Bank. "Since, the DKK has strengthen some vis-a-vis" the euro, he said. "We stick to our call that we will not see an independent rate hike in Denmark this year."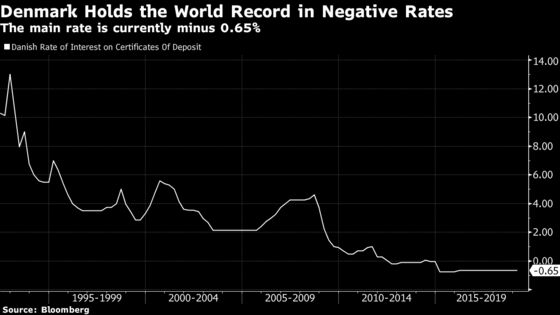 The currency is little changed this year after trading at the weakest level in almost four years in early January.
The central bank hadn't intervened in the currency markets since early 2017, but the last time it did so to support the krone was back in February 2016.
Currency interventions are often the first step toward a change in rates. The benchmark rate is currently at minus 0.65 percent.
Denmark's central bank has an agreement with the European Central Bank to keep the krone within a 2.25 percent band around a rate of 7.46038 per euro, although in practice it sticks to a much narrower range.