Bids for India's First Long-Term Repo Exceed Size Eightfold
(Bloomberg) -- Investor demand for India's first long-term repo operation exceeded the funds on offer by nearly eight times, as lenders rushed to borrow cheaply from the central bank.
The Reserve Bank of India received 63 bids worth 1.94 trillion rupees ($27 billion), it said in a statement, calling the response "highly encouraging." The authority accepted 250.4 billion rupees. Yield on the benchmark 10-year debt was up one basis point at 6.39%.
Inspired by the European Central Bank's use of long-term loans to banks, the RBI on Feb. 6 said it will bolster credit by providing up to 1 trillion rupees in one- and three-year money at the policy rate. The unusual move is the latest tool the authority has deployed to kick start loan growth in the economy after five rate cuts last year failed to spur credit demand.
"Getting three-year money at 5.15% is a killing," said Harish Agarwal, a trader with FirstRand Bank in Mumbai. "It is a rare opportunity to get funds at such a cheap price. That's why you see such a rush among banks to get as much as possible of those funds."
Yields have dropped sharply since the RBI's policy, particularly at the shorter-end of the bond curve, with that on the 7.32% 2024 down 30 basis points.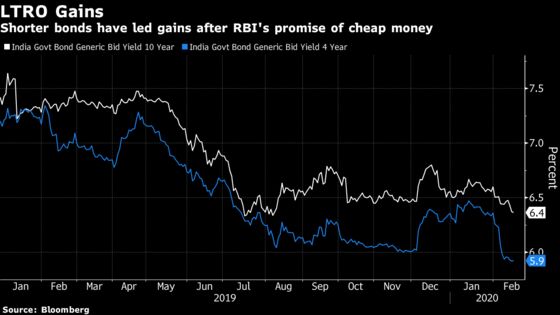 In December, the RBI announced a Federal Reserve-like Operation Twist -- buying long-dated debt and selling short-tenor ones -- to reduce long term borrowing costs.
"The RBI adding LTROs to its toolkit has proved to be a very positive development for bonds," said Dushyant Padmanabhan, strategist at Nomura Holdings Inc. in Singapore. "The central bank now has a broader spectrum of tools to cap bond yields and aid transmission."
These policy moves -- and surplus liquidity in the banking system -- have combined to produce a benign environment for bonds at a time when the government has penciled in a record 7.8 trillion rupees of debt sales for the year starting April 1. The bullish backdrop has seen 10-year yields ease nearly 20 basis points this year.