Deja Vu for Weary Pound Traders as Focus Stays on U.K. Politics
(Bloomberg) -- Pound traders can't catch a break, with domestic political tensions flaring up just as the U.K. seems ready to compromise with the European Union to reach a Brexit deal.
British Prime Minister Theresa May will face lawmakers in Parliament Monday as she defends herself amid media reports of growing opposition from her Conservative Party colleagues to her strategy. The pound fell the most in a month ahead of the speech as signs mounted of a potential leadership challenge over a proposal to extend the post-Brexit transition period.
"May has actually managed to unify the Conservative Party, unfortunately it's in opposition to her plans," said Jeremy Stretch, head of Group-of-10 currency strategy at Canadian Imperial Bank of Commerce. "It's going to be a scenario where there is inherent political risk. Accordingly, that's probably going to keep sterling on the defensive."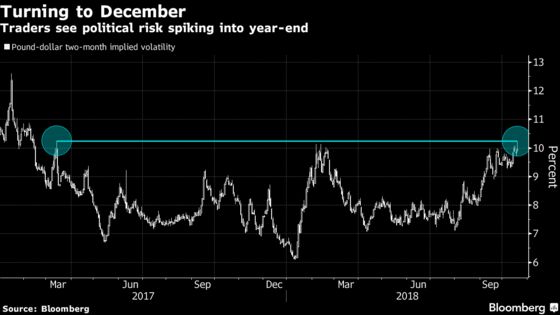 May will give her update at about 3:30 p.m. London time after last week's European Union summit failed to secure an agreement. Also in focus is a meeting of rank-and-file Conservative lawmakers -- known as the 1922 Committee -- on Wednesday after the Sunday Times reported that she faces a rebellion by more than 40 of them, just short of the 48 needed to launch a leadership challenge.
The pound dropped as much as 0.9 percent to $1.2957, its weakest since Oct. 4. U.K. government bonds rallied, with the yield on 10-year notes falling six basis points to 1.52 percent.
Pressure grew after reports said Northern Ireland's Democratic Unionist Party, which May relies on for her majority in Parliament, will vote for a proposal put forward by Conservative pro-Brexit lawmakers that would oppose her Irish border backstop plans.
Separately, Sky News said an unnamed, "centrist" Conservative was to join rebels in the party by sending a letter to the 1922 Committee with the aim of triggering a no-confidence vote in May.
With all the uncertainty swirling, investors are short the pound, and many are opting to bet through options rather than which way the currency goes. Pound-dollar two-month implied volatility held near a 19-month high touched last week as focus converges around the next EU summit in December. The options market is the most bearish on the sterling in two years.
"If a leadership contest is triggered then expect a substantially large drop" of 1 percent to 2 percent in the pound, said Jordan Rochester, a strategist at Nomura International Plc.