Deficit, Debt and EU Defiance: A Guide to Italy's Budget Battles
(Bloomberg) -- Relations between Italy's populist government and the European Union continue to sour, and markets are worried. With plans to meet budget pledges that some estimate to be over 100 billion euros ($116 billion), or more than 5 percent of gross domestic product, the government is on a collision course over its fiscal plans.
Adding to the tension, Deputy premier Luigi Di Maio said in an interview published Tuesday that Italy may breach the EU's deficit limit if that's what's needed to increase investment spending to boost the economy.
"I can't rule that out," he told newspaper Il Fatto Quotidiano. Italian bonds fell fell for a fifth day, pushing the 10-year yield toward 3.2 percent.
The coalition is expected to set new public-finance and economic-growth targets by Sept. 27 and present them to parliament. This will be followed by the Draft Budgetary Plan that Italy will have to submit to the European Commission by Oct. 15. Finally, the budget law has to be sent to parliament by Oct. 20, with final approval expected by year-end.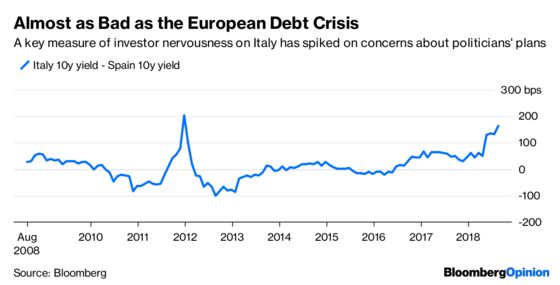 Italy's current targets, agreed with the EU, see the deficit falling from 1.6 percent of GDP in 2018 to 0.8 percent in 2019, with a balanced budget in 2020. Finance Minister Giovanni Tria told Bloomberg News in July that his aim is not to worsen the structural-budget situation and possibly to improve it. But he's also said that slower than expected economic growth means the deficit is heading toward 1.2 percent in 2019.
Tria and other coalition leaders have said the budget will comprise at least part of the measures promised in the election, including some form of universal income for the poor and tax cuts at least for the self-employed who are below a certain income. But the government has so far given few details on funding and implementation.
At the same time, the existing deficit targets take into account a planned VAT hike that amounts to 0.7 percent of GDP -- but the new government is reviewing this, which means less to spend unless that gap can be plugged by other measures. Reversal of a prior pension reform is another pledge with recurring effects in the longer term.
The fatal collapse of a bridge near Genoa has also thrown the spotlight on Italy's creaking infrastructure. EU Affairs Minister Paolo Savona wants a 50-billion euro investment plan to help boost economic growth, and Deputy Premier Matteo Salvini has said that higher infrastructure spending doesn't need to be counted in the EU deficit rules.
Italy's public debt, at 2.3 trillion euros, is already the highest in the euro area after Greece. As a ratio of GDP, it's forecast to be 130.8 percent this year, and narrow to 128 percent in 2019. Tria has insisted that the government will keep working on the reduction of the debt ratio despite slower economic activity this year.
Tria says a universal income could be partly funded by cutting other welfare instruments, though there's little detail. He also announced plans to review existing tax policy and cut any unnecessary tax breaks or deductions. It's unclear whether a 80-euro-a-month tax rebate for the lowest paid passed by former premier Matteo Renzi will remain.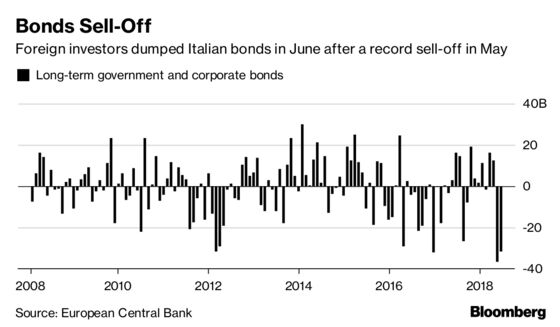 Under EU rules, no country should have a deficit larger than 3 percent of GDP or debt above 60 percent of output, and governments are required to set annual targets to show they're moving in the right direction. Even if Italy doesn't breach the 3 percent target, it would still fall foul of EU rules if the deficit doesn't narrow at the pace agreed, considering its high debt. While countries often miss these goals, it's unusual for a government to admit in advance that it even isn't going to try to hit them.
If the coalition parties adopt all their proposals, Goldman Sachs estimates the deficit would widen to as much as 7.4 percent of GDP in 2019.
The EU can impose fines and other penalties (after a lengthy period of consultation), but it's always preferred stern warnings in the past.
Does it Matter?
Markets could make it hurt. The 10-year yield spread over Germany could blow out to 470 basis points -- the highest level since the euro-area debt crisis -- from around 275 currently, should the budget break the EU's 3 percent limit. A 2019 deficit set at 1.8 percent would instead see the spread narrow to about 208 basis points. The 10-year yield is already above 3 percent, compared with 2 percent at the start of the year.
Fitch Ratings is meanwhile due to issue an update on Italy on Aug. 31, with S&P Ratings due in October. Moody's Investors Service has put Italy on review for a possible downgrade, though it's extended this until end-October at the latest to get "greater clarity."
In a Bloomberg Survey this month, economists forecast the deficit will rise to 2 percent in 2019 from an estimated 1.9 percent in 2018.
But, according to some, the government's fiscal policy is a barking dog that may not bite.
JPMorgan and Barclays say the government could agree to new targets that reduce the deficit at a slower pace, but keep it moving in the right direction. There's still a question whether that will be enough to win over the EU.