Decisive RBI Means India Rates Can Fall More, Citibank Says
(Bloomberg) -- The Indian central bank's decisive quest for lower interest rates to support economic growth means bond yields have more room to ease, according to Citibank N.A.
There's scope for the term premia -- the difference between the repo rate and benchmark 10-year yield -- to compress by another 30 basis points over the next couple of months, said Badrinivas NC, managing director and head of markets for South Asia at the lender.
"We are seeing a very decisive RBI in their push towards lower rates in the economy and impetus to facilitate growth," he said in an interview in Mumbai. "That bias is extremely clear."
The RBI's use of a Federal Reserve-style 'Operation Twist,' and the European Central Bank-like cash boost to banks, has caused the term spread to shrink from a decade-high in December. Still, the reading of 121 basis points is above the mean spread of 55 basis points seen during the 2015-2017 easing cycle, according to Deutsche Bank AG.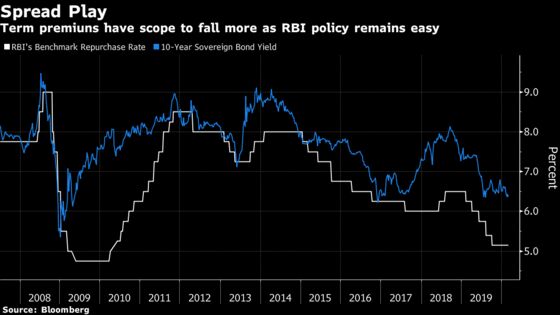 Despite being an inflation-targeting central bank, the RBI's bias toward lowering rates is clearly visible in the minutes of its recent monetary policy panel meeting, Badrinivas said.
After cutting interest rates five times last year, the RBI has been on pause since December citing higher than expected inflation. It, however, has retained an accommodative policy stance.
India's inflation likely peaked in January, and will probably ease going forward as food prices come off the boil. That should open up room for the RBI to resume interest-rate reductions. Latest data showed consumer prices surged to 7.6% in January from a year earlier, mainly on account of costlier fuel and elevated food prices.
"If headline inflation remains high for long, there are obviously worries about whether inflation expectations will be higher," said Badrinivas. "But from where we are on the growth and demand conditions, it's too premature to worry about generalized inflation."
While the RBI is likely to keep the system awash in cash, a reduction in rates will likely happen only in the second half the year when there are clear signs of inflation receding toward 5%, if not 4%, he said.
The 10-year yield can drop to 6.10% levels, Badrinivas said. It gained one basis point to 6.36% on Tuesday. The range for the benchmark debt is 6.10%-6.60% levels, he said.
Here are some excerpts from the interview:
Risk is now appropriately priced in India for the first time in many years; good companies, management and balance sheets are able to attract strong flows.
The domestic fund-raising market is still a bit risk averse. Surplus liquidity is chasing good issuers. Some of the companies which are not highly rated will get financing from overseas.
In the past few months, the way balance of payments math is working is that when there is a growth slowdown, there is a significant reduction in trade deficit and a big improvement in BOP surplus.
Even for next fiscal year, continue to expect $35-$40 billion dollars of BOP surplus, which gives lot of stability to currency
When there's a global view of outperformance of INR, we tend to attract more debt flows. Beyond RBI's policy, if we see a period of stability on currency in a world still looking for yields, the high nominal yields we provide will attract flows in fixed income.