Debt Market Flashes Red for Dubai Stocks
(Bloomberg) -- The debt market stayed off the Dubai bandwagon even as stocks notched their biggest monthly gain in five years, and a similar unease has now crept into equities.
It's a recognition of the long slog that awaits the emirate after the coronavirus pandemic gutted business confidence and shut down much of its economy. As the Middle East's main business hub moved to loosen curbs imposed to contain the virus, equities broke a historical pattern last month, soaring in a disconnect from the rising cost of insuring against a Dubai default. Five-year credit-default swaps are meanwhile near the highest since 2012.
Global investors including AllianceBernstein and American Century Investments are warning that local stocks are in for a rough time. Dubai's DFM General Index is already down almost 5% in May, extending this year's losses to 30%. That's the sixth-worst performance in the world, according to data compiled by Bloomberg.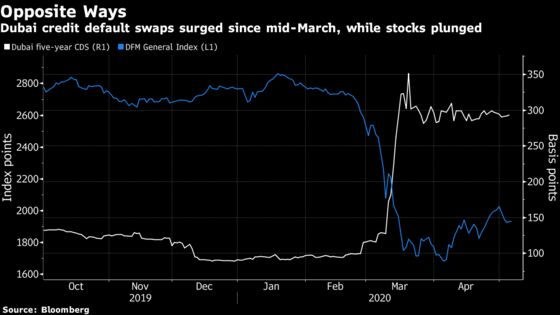 Built on trade and tourism in a region reliant on oil, Dubai is uniquely vulnerable to the twin crises that struck the global economy. A sputtering recovery from Asia to Europe is likely to stifle the momentum created by a gradual reopening of businesses and services in the United Arab Emirates, of which Dubai is the second largest member behind oil-rich Abu Dhabi.
"Dubai equities are a highly cyclical bet on a global recovery," said Slava Breusov, a senior analyst with the emerging and frontier equities team at AllianceBernstein, which manages about $540 billion. "I do not think that the catalysts for outperformance are around."
Dubai shares have historically traded cheaper than the MSCI EM Index, based on estimated price-to-earnings, but the gap has widened as its economy buckled from the pandemic. Even after a rally last month, the discount between the city's equity index and the benchmark for global emerging markets is still near the widest since early 2011.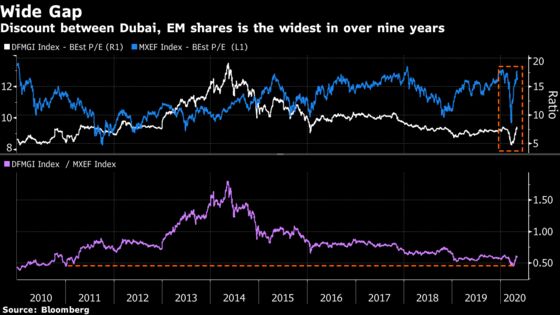 Dubai government debt isn't rated, but credit assessors are turning increasingly skeptical over key local companies, such as utility Dewa and port operator DP World, which have recently suffered downgrades.
Dubai will feel the most pain among the U.A.E.'s seven emirates, with the city's non-oil gross domestic product set to contract by 4.9% this year, according to Moody's Investors Service. And there's the risk that government-related companies will need financial support as economic conditions deteriorate.
Instead of following other Gulf governments by tapping public markets, the emirate is in talks to raise billions of dollars of debt privately. Its five-year credit-default swaps have tripled to almost 300 basis points this year, compared with 126 basis points for Abu Dhabi, the capital of the U.A.E., which sold $7 billion of dollar bonds in April.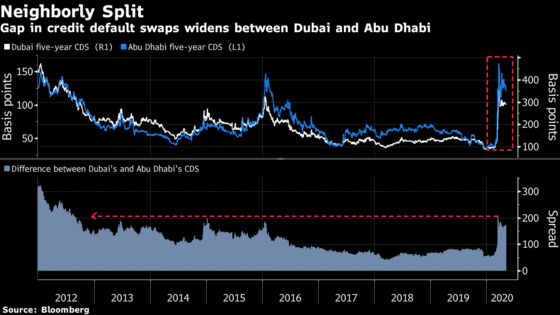 The pandemic forced Dubai, home to the world's tallest building, to delay this year's World Expo, seen as key to boosting an economy that was already growing slowly. Its airport, the busiest hub for international air traffic, has been closed for a month to passenger flights, other than some services that restarted in April.
"Hotels in Dubai, restaurants, malls may not witness the same patronage as earlier," considering the pace at which life is returning to normal in China, said M.R. Raghu, the head of research at Kuwait Financial Centre SAK, which manages $3.8 billion.
But Dubai has shown resilience before, and it has the potential to feed off a global rebound when it finally materializes.
"What Dubai has done so successfully over the last 20 or so years cannot be taken away overnight," said Bassel Khatoun, portfolio manager and director of research at Franklin Templeton Emerging Markets Equity. "Shorter term, the strains are certainly going to be there as it has a much larger share of tourism and hospitality than other parts of EM. And those sectors will be under pressure until we see a recovery or stabilization toward normalization from Covid-19."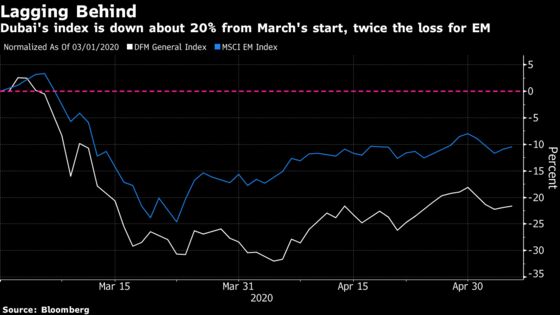 The DFM General Index was little changed as of 12:19 p.m. local time Thursday, lagging a 0.6% increase for stocks for developing countries. Dubai shares climbed 14% in April, partially recovering from a 32% slump in March. The MSCI Emerging Markets Index rose 9% last month, after a 16% drop in March.
"Though the market may look optically cheap, without visibility into a company's earnings potential, we tend to shy away," said Patricia Ribeiro, a New York-based senior portfolio manager at American Century Investments. "We have much greater visibility, more confidence, in others areas of our investment universe, such as China."