Deal or No Deal: Can China Shrink U.S. Deficit by $200 Billion?
(Bloomberg) -- China's reported offer to cut its annual trade surplus with the U.S. by $200 billion is no sure bet, and not just because state media and a Chinese official cast doubt over it on Friday. Economists have been running the numbers over any such pledge and say it would be a Herculean feat.
"There's only one way to do this: divert imports from other countries," said Alicia Garcia Herrero, chief Asia-Pacific economist at Natixis SA in Hong Kong. "The European Union's aircraft industry and semiconductor industries in Japan and Korea would suffer the most."
China's offer -- which Beijing cast doubts over on Friday -- would achieve the reduction by increasing imports of American products and other steps, said a Trump administration official. The proposal came during talks in Washington this week, the official said on condition of anonymity.
Here are some of the key questions:
Such a reduction in the U.S. trade gap with China by 2020 was on a list of demands the Trump administration made earlier this month as Treasury Secretary Steven Mnuchin led a delegation to Beijing. The U.S. merchandise trade deficit with the world's largest exporter hit a record $375 billion last year.
It would be a gargantuan accomplishment to pull off by 2020. Details of China's offer, including a time frame, haven't yet been made available and it may come with multiple conditions and a longer time frame.
"I find that difficult to contemplate," said Victor Shih, a professor at the University of California in San Diego who studies China's politics and finance. "Even with a drastic reallocation of Chinese imports of energy, raw materials and airplanes in favor of the U.S., the bilateral trade deficit may reduce by $100 billion. A $200 billion reduction would mean a drastic reduction in Chinese exports to the U.S. and a dramatic restructuring of the supply chain."
What does China want in return?
Probably for the U.S. to remove restrictions on exports to China of high-tech products and military equipment, says Larry Hu, an economist at Macquarie Securities Ltd. in Hong Kong. That may be a deal breaker for Trump's administration, which branded it a strategic rival partly due to its Made in China 2025 plan, which targets global dominance in industries from robotics to new-energy vehicles and biotechnology.
What would China need to buy from the U.S.?
Much more of everything from planes to oil and agricultural products. Airliners are among the biggest-ticket items on the planet with one Boeing Co. 777-9 having a list price of $425.8 million. Air China Ltd., China Eastern Airlines Corp., China Southern Airlines Co. -- the three biggest state carriers -- together plan to add more than 600 aircraft through 2020. Still, an order for aircraft today wouldn't necessarily mean an immediate dent on the trade deficit as aircraft orders are typically delivered over several years.
How much could China increase oil and gas imports?
While China has boosted imports of U.S. oil and liquefied natural gas, there may be limits to how much more of those commodities America can ship overseas.
The U.S. currently has only two LNG export terminals and much volume is already sold under long-term contract to buyers including Japan and India. As well, U.S. pipeline bottlenecks could limit crude sales growth in the near-term. More American export infrastructure is planned, but may take years to build.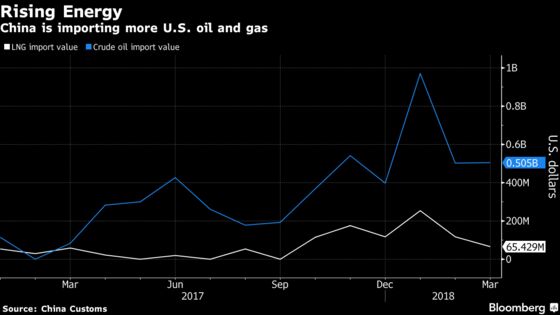 Who loses if China succeeds?
China may substitute Airbus SE aircraft for Boeing and buy more soybeans from the U.S. instead of Brazil, says Sue Trinh, a strategist at RBC Capital Markets LLC in Hong Kong. Such a strategy may send shockwaves through European and Japanese companies if China diverts purchases from them to the U.S., says Tommy Xie, an economist at Oversea-Chinese Banking Corp. in Singapore. That would exacerbate trade tensions between China and the E.U. and other nations would see orders for their products redirected to U.S. sellers.
The hit to gross domestic product could be as much as about 1 percent, though perhaps lower given that China is likely to see an expansion of its trade surplus with other nations should it buy more from the U.S., Tom Orlik, chief Asia economist at Bloomberg Economics in Beijing, wrote in a note.
It would also hit foreign exchange reserves and domestic liquidity and would be dangerous for financial stability, says Tao Dong, vice chairman for Greater China at Credit Suisse Private Banking in Hong Kong.
But a trade war may be more damaging and of equal concern to China is avoiding a confrontation with the U.S. over critical technologies. That was highlighted by the Commerce Department's order that blocked communications equipment supplier ZTE Corp.'s access to U.S. suppliers after it violated sanctions, crippling its business.
Would a deal make Trump the big winner?
Not necessarily. Handing Trump small wins by making concessions on trade and investment that cost little, and hurt others more, plays to China President Xi Jinping's agenda of weakening Trump's ability to build a coalition against China, says RBC's Trinh.
And a deal that focuses on the deficit, of course, may do nothing to address the U.S. worry about China's technological rise.
"If Trump can cut a deal with China for a $200 billion reduction in the bilateral trade deficit, then he'll have won the trade deal of the century," said Rajiv Biswas, chief Asia-Pacific economist at IHS Markit Ltd in Singapore. "The devil will be in the details, with key factors being the timeframe over which China is offering to achieve this reduction."