Mnuchin Touts Tax Cuts With Davos Finale Endorsing Fiscal Boost
(Bloomberg) -- Top financial officials from the major global economies used the World Economic Forum in Davos to tout the benefits of government spending as a way to lift growth out of its funk and reduce reliance on overloaded central banks.
U.S. Treasury Secretary Steven Mnuchin labeled the U.S. as a "bright spot" in the world and attributed that to President Donald Trump's tax cuts -- along with his rollback of regulations and his trade deals. Bank of Japan Governor Haruhiko Kuroda said his nation, where fiscal and monetary policies are aligned, is seeing "very strong" business investment.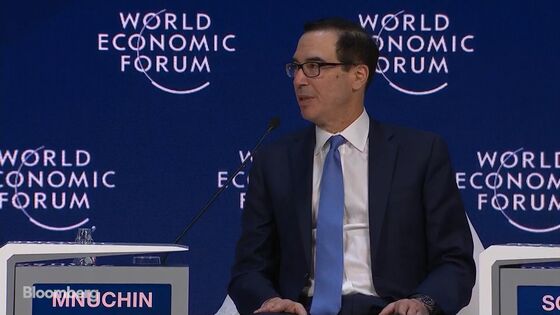 The International Monetary Fund's chief, Kristalina Georgieva, said the global economy is "in a better place" than last year for three reasons -- an easing of trade tensions, synchronized interest-rate cuts, and a bottoming out in industrial production. But she added that "we have to see fiscal policy being more aggressive."
The IMF this week toned down its warnings on the global outlook, saying growth should pick up to 3.3% this year from 2.9% in 2019, though Georgieva said that's "not fantastic."
Christine Lagarde, Georgieva's predecessor as IMF chief, who now heads the European Central Bank, was likely heartened by much of what she heard as she shared the panel. The euro zone continues to suffer sluggish economic growth, despite massive monetary stimulus, and on Thursday the ECB announced a review of its inflation goal and policy tools.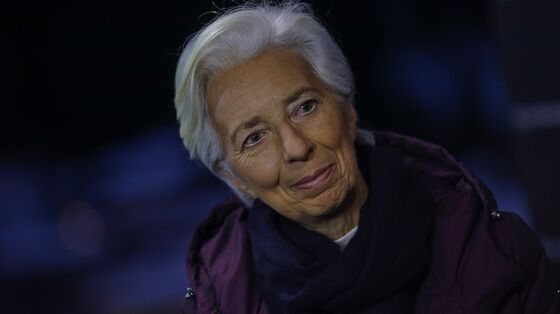 "I see some positive signs and I see some concerning signs," she observed. "In the positive I look at the employment numbers and the unemployment numbers. We never had such good employment numbers."
Her dominant worry though is a lack of inflation. Two of her colleagues, the heads of the French and Dutch central banks, said in an earlier session that while monetary authorities aren't out of firepower, further measures to stoke prices risk unwanted side effects that lessen their impact.
Lagarde has repeatedly called on governments with fiscal space to use it, a message seen as especially targeted at Germany, which has run a budget surplus for half a decade.
Alongside her on the panel, German Finance Minister Olaf Scholz repeated his assertion that his country's economic situation is "not critical" despite a manufacturing meltdown, as exports are hit by trade uncertainty and the auto industry's struggles with the shift to electric vehicles.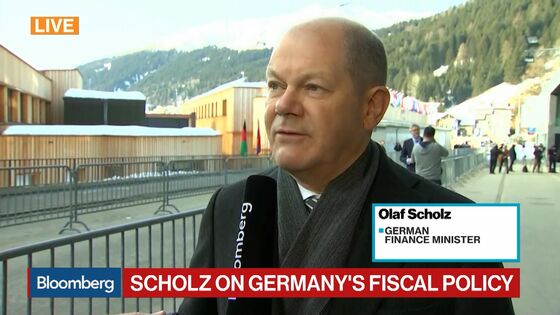 He also said the government is providing aid to the German economy, including fiscal support with tax changes, spending on infrastructure and the shift to greener technologies.
"As we have a lot of room for maneuver and space, we used it," he said. "One was to reduce taxes, we did at certain moments take decisions at this time, and it will be all together 25 billion a year from the next year on. So this has really an impact on the demand from the people, especially those with lower and medium incomes."
The panel, the finale at the Swiss gathering of the world's financial elite, also touched on a topic that has been a particular sore point among them: negative interest rates.
Despite having praised central-bank easing over the past year, a process that included taking the ECB's deposit rate to a record minus 0.5%, Georgieva mused that any talk of low rates forever "sends a chill down my spine."