Russia Growth Surprise May Be Poor Data, Not Book-Cooking
(Bloomberg) -- This week's surprise report showing Russia's economy grew the most in six years in 2018 set off a wave of accusations the government could be cooking the books. But economists say the reason for the surprise is likely more banal: the country's perennially poor statistics.
The 2.3 percent growth estimate looked particularly suspicious since it brings results closer to President Vladimir Putin's ambitious expansion targets and follows a management overhaul at the state statistics agency. It outpaced even the most optimistic forecast in a Bloomberg survey of 17 economists.
"I don't think there was any manipulation of the data," said Iikka Korhonen, head of research at the Bank of Finland Institute for Economies in Transition. "The various revisions haven't been communicated very well and they happen unexpectedly, which makes people suspicious."
The government is on the hook to deliver on Putin's aggressive growth targets of over 3 percent a year early in the next decade -- a level even the central bank suggests could be out of reach.
"It's possible there's political pressure" to show stronger numbers, said Kirill Tremasov, a former Economy Ministry official who's now an analyst at Loko-Invest in Moscow.
"Even if we imagine that they didn't fiddle with anything and this is how the numbers actually came out, then that's even sadder, since it's a sign of a serious failure in the work of Rosstat," he said, referring to the statistics agency.
Russia's post-Soviet economic data only goes back a few decades and the Federal Statistics Service is notorious for revisions that completely alter the outlook. A December overhaul of data shaved a year off the longest recession of the Putin era, while a new way of counting weapons spending, among other items, allowed the agency to revise up two years' worth of GDP data in 2017.
The latest growth estimate caught economists off guard in large part because it doesn't match the numbers for the first three quarters of the year. It's likely that those have also been revised up but not published yet, according to Vladimir Bessonov, a scholar at Moscow's Higher School of Economics, who added that 2018's fourth quarter had an extra working day compared to the year before, potentially adding to the distortion.
He noted that pressure on the agency to improve the accuracy of data has increased recently, as regional officials now are evaluated by the Kremlin in part on their economic performance.
"When no one was using the data, nobody worried about the quality, which isn't great," Bessonov said.
RUSSIA INSIGHT: Is This It? Growth Running Into 2% Ceiling
Ondrej Schneider, a senior economist at the Institute of International Finance in Washington, questioned on Twitter whether the likely revision of the quarterly data could also be suspect. A major contributor to the full-year growth number was revised data released last month showing a sudden 11-fold jump in construction between January and November, which came from delayed data from a natural gas project in Siberia.
Rosstat didn't respond to a request for comment.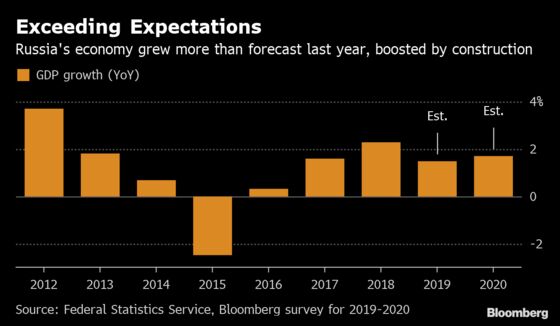 Still, analysts at investment bank Renaissance Capital pointed out that artificially pushing up the numbers for 2018 based on one-off factors is pointless because economic expansion is forecast to slow this year anyway. The median of 38 economists in a Bloomberg survey forecast the economy to slow to 1.5 percent in 2019.
"'Fake news' the critics cry – Russia must be making this up because the economy minister has changed the statistics office head and now the data has got better," Charles Robertson, the bank's chief economist in London, wrote in a research note. "We don't buy that at all."