The Shutdown Is Driving the Government's Data Wonks to the Private Sector
(Bloomberg) -- America's government shutdown risks inflicting lasting damage at the agencies that collect, parse and publish the country's data.
Census Bureau workers are visiting job-search website Indeed.com at rates 40 percent higher than before the agency's funding ran out in mid-December, based on the company's data. The Commerce Department branch is responsible for collecting facts about America's population and economy, and many of its employees are furloughed.
"When people aren't getting paid, they start looking elsewhere for work," said Martha Gimbel, research director at Indeed. "If the federal government starts losing that knowledge to the private sector, it's going to be really hard to build it back up."
The Commerce Department's Bureau of Economic Analysis, which produces gross domestic product data, is also closed, but Indeed doesn't have enough data on its employees to trace their search activity. The Department of Labor -- responsible for figures on jobs and the consumer price index -- was funded back in September, and its search activity looks normal, Gimbel said.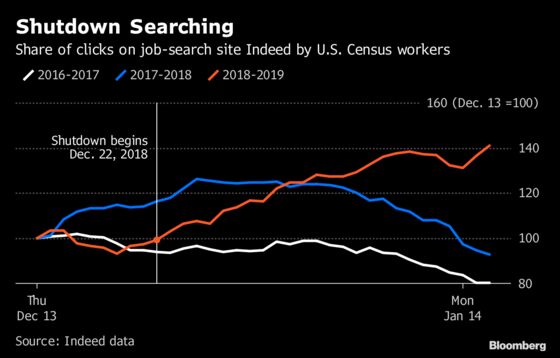 Brain drain is a concern across federal departments as shutdowns become a matter of political course in Washington. If the statistical agencies begin to bleed seasoned workers with deep knowledge of complicated surveys and methodologies, it could be a particular loss for American businesses and financial-market participants who rely on their data and analysis.
"They are basically providing the statistical infrastructure for the decisions made by the entire private sector of the economy, as well as government," Lawrence Katz, a Harvard University professor and former Labor Department chief economist, said of the data agencies. He noted that government jobs are secure and fulfilling but may not pay highly-educated people as much as companies or universities would.
At the margin, "you may lose some talent who have been around for a while, who have always had very good private-sector opportunities," Katz said.
Opportunities outside of the public sphere are especially plentiful now, with unemployment at 3.9 percent, near the lowest since the 1960s. For people with bachelor's degrees and higher, the jobless rate is 2.1 percent.
Katz pointed out that the government also misses out on a cohort of newly minted statisticians and scientists when the government is shuttered or has a hiring freeze in place. While that alone might have little impact, it can add up as such episodes become regular practice.
No crisis is likely in the near term. The concern for statistical agencies -- and across government broadly -- is more about a long-run erosion of expertise. Almost a third of career employees in 2014 were expected to be retirement-eligible by this year, according to a 2016 Government Accountability Office report that identified hiring young workers as a key public-sector challenge.
Students aren't being scared off yet, said Allynn Powell, who is associate director for professional preparation in the career center at the University of Maryland, from which the statistical agencies hire heavily.
"To date, I don't think that we've seen the shutdowns impact students," she said. "Will the thought about stability change over time? Maybe. But for now, it's still mission and stability -- that's why students are choosing many of these opportunities."
Still, Erica Groshen, a former Bureau of Labor Statistics chief, said government shutdowns could create a longer-run risk of attrition among people who value job stability or people whose enthusiasm for public work is quashed.
"The staff is phenomenally dedicated, and really care that they're doing important, valuable work," Groshen said. "Shutdowns are demoralizing. They send a message that maybe your fellow citizens don't think that what you're doing is important."