A Top-Rated Haven Just Began Interventions to Buoy Its Currency
(Bloomberg) -- For the first time in almost three years, the central bank of Denmark has bought kroner to support its euro peg through a direct intervention in the currency market.
The development marks a remarkable about-face for the AAA-rated country, which spent much of the past half-decade dumping kroner on the market to weaken the currency. The central bank first resorted to negative rates in mid-2012, and now carries the world record in keeping its policy rate below zero.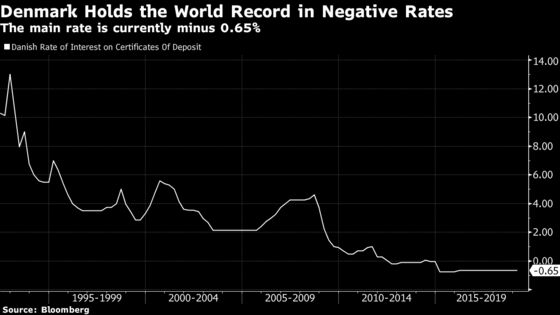 But with other central banks tightening policy, demand for kroner is not what it once was and economists predict that Denmark's central bank will probably need to raise its interest rates independently of the European Central Bank to defend its currency peg. It bought 11.6 billion kroner ($1.77 billion) in December to support the krone.
Jan Storup Nielsen, a senior analyst at Nordea Markets in Copenhagen, said it's "very likely" that the central bank will raise rates by 10 basis points if interventions continue in January.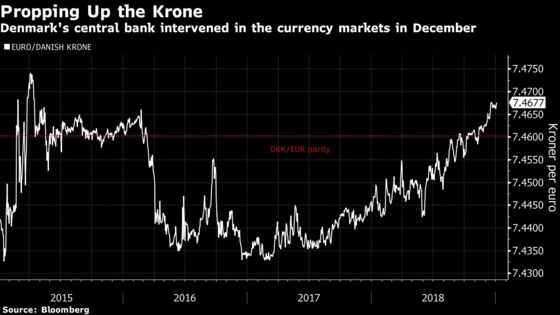 At Nykredit, chief economist Tore Stramer says that by the end of the year, a more substantial rate hike may follow.
"That will happen if the ECB, as expected, raises its main rate by 0.25 percentage point in September," he said. "And then the Danish central bank will, as always, follow suit."
The Danish currency jumped to the weaker side of its parity against the euro during the final quarter of 2018 amid slowing growth, tighter monetary policy in the euro area and a drop in support for the currency from Denmark's current account surplus.
The central bank hadn't intervened on the currency markets since early 2017, but the last time it did so to support the krone was back in February 2016.
Economists say currency interventions are the first step toward a change in interest rates. The benchmark rate is currently at minus 0.65 percent.
Denmark's central bank has an agreement with the European Central Bank to keep the krone within a 2.25 percent band around a rate of 7.46038 per euro, although in practice it sticks to a much narrower range.